06 November 2018
King's cultural community: introducing Raffaella Molin
Raffaella Moin balances her role as a Hospitality Assistant at King's Food with her life as a talented ceramic artist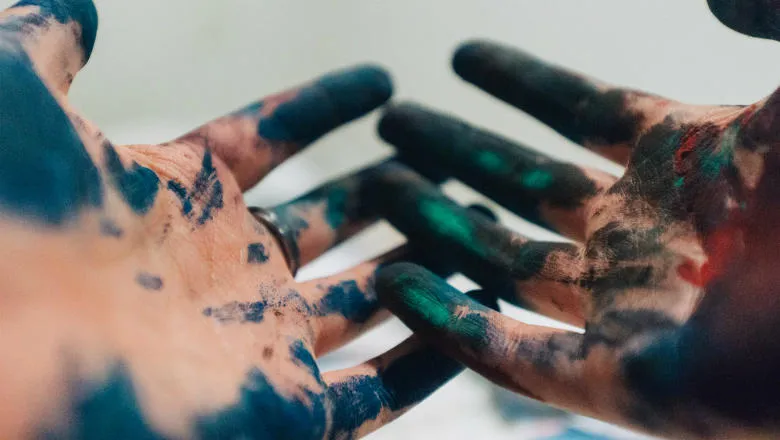 King's people creating
Raffaella Molin has been a Hospitality Assistant within the King's Food team for just over a year, but those working closely with Raffaella will know she is also a hugely talented ceramic artist, who balances her role in King's Food with her life in the arts.
Raffaella began working with ceramics and pottery in 2005 during a weekend course at Camden Arts Centre, London. Prior to that, she studied make-up at the London College of Fashion and spent a number of years as a freelance make-up artist before discovering a passion for ceramic art.
She works from a shared art studio in south-west London. She's there six days a week, either first thing in the morning before heading to work at the Strand campus, or – depending on shift patterns – late into the night.

Raffaella Molin in her studio. Image courtesy of the artist.
Raffaella's bespoke ceramic artworks are crafted from black clay and porcelain, using traditional hand building methods such as coiling, pinching and slab building. Each piece takes about 20 hours to complete, as she carefully manipulates the surface to create the effect of discarded objects transformed by usage and time.
'My techniques are inspired by the materials that I use', says Raffaella. 'When I work with black clay, I do it in quite a rough and sometimes playful way. This means that the weathered marks of each piece look unpredictable and spontaneous – giving them a unique personality. My inspiration is always different. I try not to do the same thing twice, but my background in fashion means that I'm particularly interested in silhouettes and the shape of the human form.'
Raffaella enjoys her role at King's, not least because it supports her life as an artist through the flexibility it offers. She would love, eventually, to make her art her full-time career but, for now, she is happy to balance her work at King's with her portfolio of commissions for private clients. One such commission – the hardest piece she has created – perfectly brings together her 'day job' at King's and her life as an artist. Created for the owner of Zucca, an Italian restaurant, on Bermondsey Street, the intricate sculpture of a black pumpkin – 'zucca' means pumpkin in Italian – took weeks to perfect before it took centre stage in the restaurant.