18 August 2023
King's dentistry graduate selected to join the prestigious Healthcare Leadership Academy Scholars programme
King's dentistry graduate, Dr Abhishek Kansara, has been selected to join the Healthcare Leadership Academy (HLA) Scholars programme - a prestigious scholarship set up to develop and nurture healthcare leaders of the future.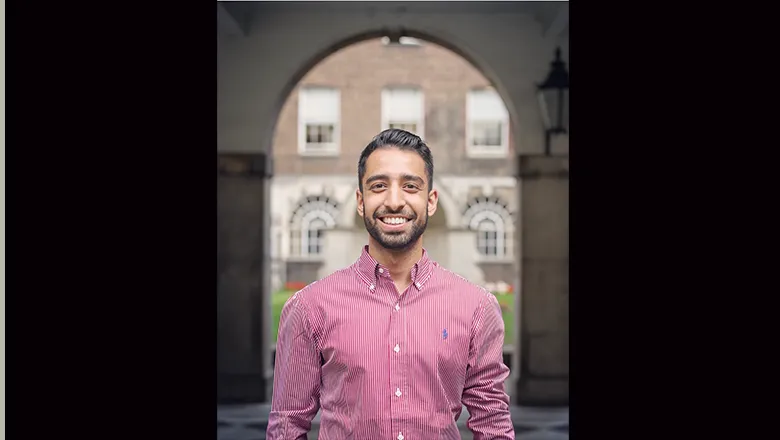 Dr Abhishek Kansara
After completing a rigorous selection process of over 141 applications from across 27 countries, Dr Abhishek Kansara has been invited to join the academy's cohort for the 2023/24 academic year.
Speaking about the opportunity, Abhishek Kansara said: "I am super excited to be a part of the HLA Scholar Program. I look forward to developing my leadership skills and working alongside healthcare professionals from across the globe."
Dr Abhishek Kansara graduated from the Faculty of Dentistry, Oral & Craniofacial Sciences at King's College London in 2021 and is currently a DCT1 in Oral and Maxillofacial Surgery at The Royal London Hospital (Barts Health NHS Trust).
Founded in 2016, the HLA scholarship recognises healthcare students and professionals with proven leadership abilities and gives them the opportunity to take their leadership skills to the next level. This year's cohort has a mix of medical students from across all clinical specialties, including doctors, nurses and dentists.
The flagship HLA Scholars programme started in London with just 11 scholars and has more than doubled in size every year.
Since then, it has rapidly spread across the UK, with cohorts in London, Newcastle, Bristol, Belfast, Edinburgh, Leeds and internationally it has spread to Amsterdam.
To date 400 plus scholars have completed the programme – with 78 scholars being accepted onto the 2023 / 24 cohort.
The HLA programme was formed in response to the demand from young clinicians and medical students to learn about leadership. The aim of the programme is to inspire the next generation of healthcare professionals and develop their understanding of leadership.