15 April 2019
King's Dentistry Professor Honoured by Harvard University
Professor Paul Sharpe, Dickenson Professor of Craniofacial Biology and Head of the Centre for Craniofacial & Regenerative Biology was recently honoured by the Harvard School of Dental Medicine.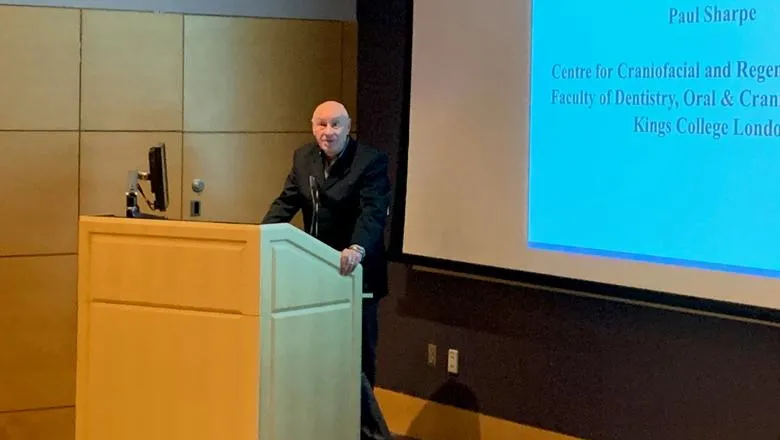 Professor Sharpe at Harvard University
Professor Sharpe is the 2018 recipient of the Goldhaber Award. The Award honours a scientist or educator of distinction who has made a substantial contribution to advances in dentistry.  Each year the award committee considers several candidates with international recognition. The Award was established in 1989 as Dr. Goldhaber completed his twenty-two year tenure as Dean of Harvard School of Dental Medicine.
Professor Sharpe's main research interests are the molecular control of tooth development, dental stem cells biology and tooth bioengineering. He has published over 300 research papers including articles in Nature, Science, PNAS and Cell press.
His current research focuses on understanding dental pulp stem cell function and the development of stem cell-based approaches for new therapies in clinical dentistry.
Dr Goldhaber made many contributions to dental education, research and the dental profession during his deanship.  The Award was presented in Boston and Professor Sharpe delivered a lecture on Dental Pulp Stem Cells while visiting Harvard University.
In this story