18 July 2017
King's Dentistry wins University of London Gold Medal Viva for the fifth year in a row
The Dental Institute is delighted to announce that Sana Sadiq, who recently completed her BDS undergraduate programme, Class of 2017, has won the highly prestigious University of London Gold Medal Viva for Dentistry. King's College London have now won the Gold Medal Viva for Dentistry for five years in a row.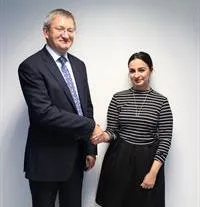 The Gold Medal, accompanied by a cheque for £500, is awarded annually to the student who most distinguishes him, or herself, in a special series of oral exams conducted by four external examiners.
Both King's College London Dental Institute and Queen Mary, University of London (QMUL), are invited to nominate the top few students for the Gold Medal competition, which takes place after the final Bachelor of Dental Surgery examinations.
Sana is part of the graduate entry programme and was still completing her MSc in Chemical Research when she started at the Dental Institute. She has thoroughly enjoyed her time at the faculty: "Over these 4 years I have felt very privileged to be a King's Dental student, both in terms of the quality of the academia and clinical teaching, and the support from staff. My time here has been instrumental in teaching me how to work hard and also have fun along the way, and the friends I have made here will be lifelong."
Sana graduated from the BDS a few weeks ago and despite it being her second graduation ceremony, she found the experience even more enjoyable than the first time round: "Having graduated twice before, I expected it would be another run of the mill graduation ceremony but I was wrong!" she enthuses. "Southwark Cathedral was a very imposing and grand setting, and the pride of all the friends and family was palpable. It was clear how hard everyone had worked to make it here and how supportive everyone's loved ones were along the way."
Dental Institute Interim Executive Dean Professor Mark Woolford says: "It is always a pleasure when a King's student wins the University of London Gold Medal.  Our students have in fact taken first place five years in a row now. This is the most prestigious prize available in the UK and really shows the accomplishment of the winner. The recipient is probably the best graduate in the UK and we are extremely proud when they are one of ours. The medal is small but the achievement is massive and once again I am able to congratulate the winner and I know they are destined for great things."