13 March 2018
King's Entrepreneurship Institute leads 2018 Venture Crawl
King's Venture Bus will take 200 London students on a unique 12-hour entrepreneurial journey.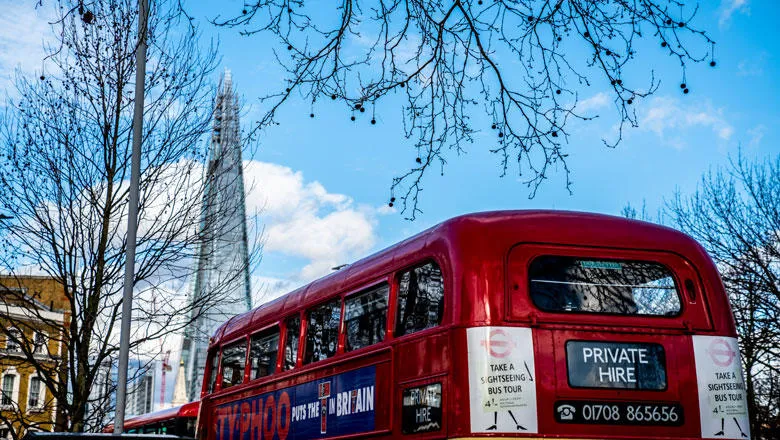 A partnership between nine London universities has seen 200 students from across the capital embark on a unique entrepreneurial bus journey.
Six iconic Routemaster buses transported students studying subjects as diverse as fashion, computer science, medicine and law to 30 of London's top innovation hubs for talks, workshops and behind-the scenes-tours. Stops on the six routes include Amazon Fashion, Hello Fresh, Deliveroo, Barclays, Campus London – a Google space, Creative Entrepreneurs, Innovation Warehouse, Digital Capital, Makerversity and Wayra. Students heard from inspirational entrepreneurs including Shell Springboard winner, Carlton Cummins, Dragon's Den winner, Deepak Tailor and blockchain expert, Mustafa Al-Basam.
The London Venture Crawl, which was successfully piloted in 2017 by King's College London, is a unique partnership between King's, University College London, London South Bank University, Brunel University London, the University of Westminster, Loughborough University (London campus), Birkbeck University of London, University of East London and London College of Fashion.
It is designed to give students the opportunity to connect to real-world businesses, take inspiration from industry leaders, explore their early-stage start-up ideas and gain skills in self-confidence, creative thinking and leadership.
The London Venture Crawl culminated in an event at Plexal in the Olympic Park where students heard from Diane Perlman, Founder of Microsoft Ventures and Chief Marketing Officer at Unruly, Laurence Kenball-Cooke, Founder of Pavegen and the CEOs of Plexal and Here East.
Jeremy Shorter, Learning Programme Manager at King's Entrepreneurship Institute, said: 'The best way to learn about entrepreneurship and innovative thinking is to experience it first-hand; to meet the people who are creating new jobs and coming up with creative ways to meet society's challenges. As London universities we have the world's top innovators right on our doorstep and we want students to take full advantage of such a unique location.'