02 December 2016
King's Health Partners awarded Cancer Research UK Centre status
King's Health Partners, of which King's College London is a major partner, has been awarded Cancer Research UK Centre status following a national competition.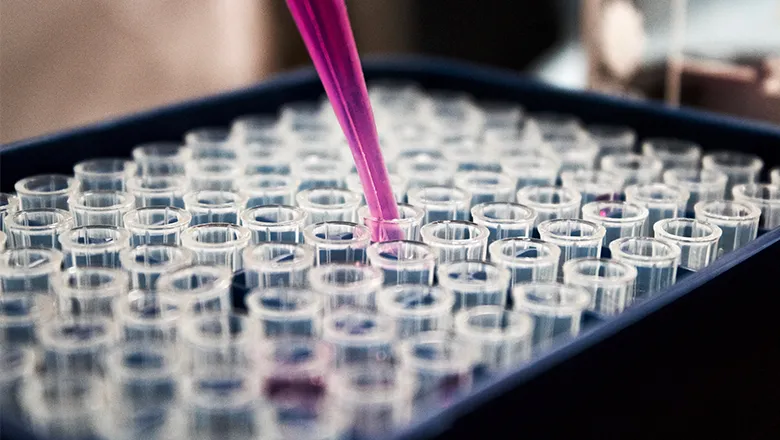 This prestigious award is recognition for the excellence of the cancer research across the partnership. At the same time, the renewal and increase in funding for the King's Health Partners Experimental Cancer Medicine Centre (ECMC) awarded by Cancer Research UK and the Department of Health, creates a substantial investment (£8.5m over 5 years) in our cancer research and development programmes.
Cancer Research UK Centres deliver world-leading research that accelerates the journey of lab-based discovery to hospital clinics for the benefit of all affected by cancer. The Centres foster collaboration between universities and their partner NHS hospital trusts, with different Centres contributing their diverse expertise, creating a unique network of interacting Cancer Centres bringing innovation into the clinic through the associated ECMC network.
The funding received for the Cancer Research UK Centre and the ECMC will allow scientists at King's Health Partners to carry out pioneering research into the microenvironments of tumours. This means they will be able to gain a better understanding of how tumours form in people, and how they then adapt to go unnoticed by the patient's immune system.
As a result, they will be able to develop new immunotherapies designed to reinvigorate a patient's immune system to recognise and start fighting the cancer, and to apply profiling and imaging technologies to help guide the deployment of these new treatments and measure patient impact through the ground-breaking ECMC clinical trials programme.
Professor Peter Parker, King's Health Partner's Cancer Research UK Centre lead, commented: "This award is further recognition of how our partnership is committed to using advances in research to improve care for patients. Tumours do not exist autonomously, they develop to induce a favourable local environment for their own propagation. The more we can understand about how they do this, the better equipped we will be to prevent them from doing so."
Professor Arnie Purushotham, Director of King's Health Partner's Comprehensive Cancer Centre, said: "This is a fantastic achievement for our patients and staff. I am simply delighted with this terrific news and deeply indebted to all my colleagues who contributed to this successful outcome."
Collectively, King's Health Partners is the largest provider of cancer services in London and one of the largest in England. Between the partners - King's College London and Guy's and St Thomas', King's College Hospital and South London and Maudsley NHS Foundation Trusts - the full spectrum of clinical cancer care, pioneering research and excellent training is provided across the sites. The partnership was awarded Comprehensive Cancer Centre status by the Organisation of European Cancer Institutes (OECI) in October 2015, and a new state of the art Cancer Centre at Guy's Hospital opened recently, with clinicians, trials coordinators and researchers working side by side to deliver high quality patient care.
For more information please contact the press office on pr@kcl.ac.uk or 0207 848 3202. 
For more information about King's College London, please visit the King's in brief webpage.