17 August 2023
King's hosts Law Schools Global League Conference and 11th Summer School
The Law Schools Global League (LSGL) General Assembly and Academic Conference, and the 11th LSGL Summer School was hosted by King's in July, bringing together students and academics from across the world to discuss global legal education and the net zero transition.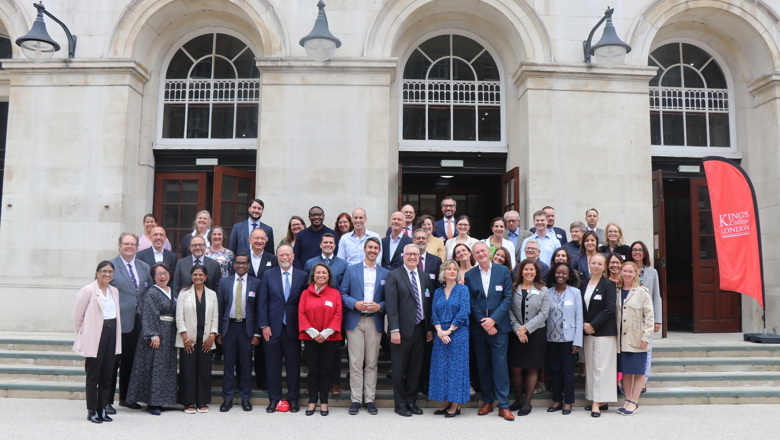 With expectations falling far short of reaching net zero by 2050, there is an increasing sense of global urgency to find solutions to avert environmental disaster. Even though there is a coalition of governmental and non-state actors and institutions, including over seventy countries who are committed to reaching net-zero emissions, pledges and commitments to reaching net zero are being made at the same pace as targets are not being met.
The LSGL General Assembly and Academic Conference, was a timely forum to explore and debate the legal and regulatory interventions required to facilitate and accelerate a timely and just global net zero transition.
According to the UN, to meet the Paris commitment of keeping global warming to no more than 1.5°C, emissions need to be reduced by 45% by 2030 and reach net zero by 2050. Currently, the earth is already about 1.1°C warmer than it was in the late 1800s, and emissions are rising.
Professor Megan Bowman, Director of the Centre for Climate Law and Governance, developed and led the theme and programme for this year's Academic Conference. Professor Dan Hunter, the Executive Dean of the Dickson Poon School of Law, delivered the opening address. The academic conference included parallel panel sessions addressing the theme of the conference and more, and were chaired by several of the Law School's research centres. The panels were broad in their remit ranging from 'Regulating new technologies for Net Zero' to 'Philosophical and social perspectives on the Net Zero transition.'
During the summer school, students explored themes of private law and new technologies, as well as grappling with broader questions around sustainability. The LSGL's objective for summer school students is to give them a 'cutting-edge learning experience in exploring the challenges of the legal profession in an increasingly globalized world.'
The Law Schools Global League was set up in 2012 with the aim of globally promoting and fostering scholastic research on law and legal education and encouraging collaboration among its members in debate on issues of global legal significance and practice.
In this story