13 December 2018
King's hosts UN panel on digital security
The School of Security Studies hosted the UN Secretary-General's High-Level Panel on Digital Cooperation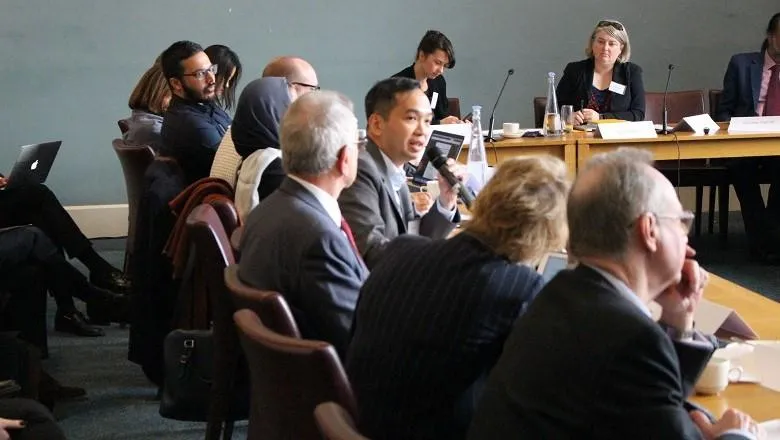 UN Secretary-General's High-Level Panel on Digital Cooperation
On Monday 10 December King's College London hosted the UN Secretary-General's High-Level Panel on Digital Cooperation for a symposium focused on issues of security, stability & trust in the digital realm.
"The event is trying to understand the challenges to cooperation across various sectors, at state level, between companies and their consumers or governments and their citizens," commented Professor Wyn Bowen, Head of the School of Security Studies at King's, which hosted the panel.
"The overall focus of the event is trying to come up with policy ideas which may be top-down, normative in approach or bottom-up, focussed on different approaches to risk mitigation."
Participants in the event included Anja Kaspersen, Director, United Nations Office for Disarmament Affairs, Adam Hadley, Director, Tech Against Terrorism, Ambassador Amandeep Gill, Executive Director ofUN SG's High-level Panel on Digital Cooperation and Melody Pardy, Advocacy Director, Access Now.
A lunchtime discussion also explored where companies fit into the international digital ecosystem. Mark Hughes, CEO of BT Security was key speaker in a discussion which reviewed the challenges and opportunities of cooperative working and the responsibilities of industry, governments and international organisations within this system.
Topics discussed included security and stability in the digital realm, social trust and duty of care, and principles and cooperative strategies for building trust & security.
The panel explored the existing mindsets, norms, or status quos that need to be challenged in order to address issues of digital security and trust, the key tenets of social trust in the digital age, and the question of duty of care for our digital space, and how can we align this duty with individual motivations and interests.
A number of ideas and conclusions emerged from the day which will feed into the UN Secretary General's report on digital cooperation due in 2019.