25 March 2019
King's joins city powerhouse to give legal advice to businesses
King's Legal Clinic and PricewaterhouseCoopers's ('PwC') UK Legal network are teaming up to offer free legal advice to members of the public and small businesses who might not usually be able to afford such legal support.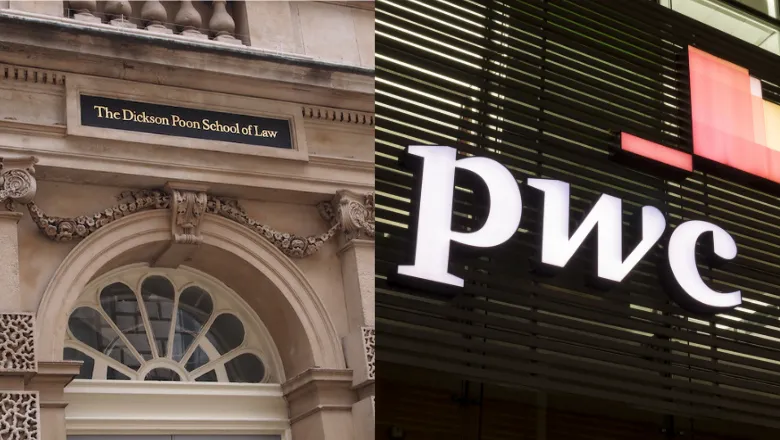 The project will see around 30 PwC volunteers working with law students from the Dickson Poon School of Law to give members of the public, sole traders, small business owners and social enterprises one-off advice on range of legal issues. These include issues relating to employment, property/housing, contractual issues and intellectual property. 
Shaila Pal, Acting Director at King's Legal Clinic, said: 'King's Legal Clinic is delighted to be partnering with PwC on this new service for the community. Ordinary people and small business with limited means can be faced with legal problems that they are unable to resolve without specialist assistance.  As a result, our clinic has seen the demand for pro bono legal advice increase over the past few years.
'The clinic with PwC is a great opportunity to for students to help in increasing access to justice for the local community.  It's also a valuable way for King's students to learn about how the law works in practice.'
Kirsty O'Connor, solicitor at PwC and co-founder of the clinic, said 'This is an exciting and extremely important venture. Legal services should be available to everyone, regardless of their background or personal circumstances. Many of the clinic's clients have low household incomes and could not otherwise access legal support. For a society to be fair, income should not be a barrier to accessing justice.'
The clinic will operate by appointment only. To make an appointment go to https://www.kcl.ac.uk/law/pli/kings-legal-clinic/clients/index.aspx or call 0207 848 1575.'