12 April 2018
King's own The Rolling Tones to compete at the ICCA Finals
The Rolling Tones a cappella group to compete at the ICCA Finals in New York.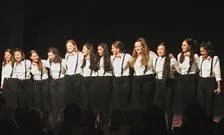 The Rolling Tones
King's all-female a cappella group The Rolling Tones have won the UK Finals of the International Championship of Collegiate A Cappella (ICCA) and are off to New York City at the end of April to compete in the World Championships.
Five members of the troupe study music at King's College London.
The ICCA is the same competition that features in the Pitch Perfect films.
The Rolling Tones, who are the current champions of the Voice Festival UK University Championship, have broken records by being the first all-female group to win this title, the first all-girl group to be in the ICCA finals, and are the only all-female, non-American group competing in the finals.
"Winning the UK final in itself is enormous for us. It's not just about all the 'first's and 'only's that we've achieved. We've put in an enormous amount of work this academic year and we're just delighted that it's paying off," says Vice-President Philippa Massouh.
The Rolling Tones are looking to raise £12,000 to fund their trip to New York. Philippa says they have been overwhelmed by the support so far.
"Our families and friends have been beyond generous and we're super thankful. What is great about a cappella in the UK is that it's quite a small community and we're all friends, so donations have been coming in from other groups too which is just wonderful." The group have raised about 50% of the funds needed to travel to the ICCA.
To find out more, visit https://www.kclsu.org/organisation/therollingtones/ and to donate to The Rolling Tones travel fund visit https://www.gofundme.com/therollingtones.