21 June 2018
King's PhD student Effy Efthymiou's composition shortlisted for Ivan Juritz Prize 2018
King's PhD student Effy Efthymiou is one of two King's students to be shortlisted for the Ivan Juritz prize, for her composition, 'Even if it is Only a Whisper'.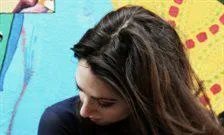 Effy Efthymiou
"[It] re-appropriates two progressions of species counterpoints, which have acted as the organising force of this music – that is, I have built the entire musical fabric from the skeleton of these progressions. My aim was to simultaneously celebrate, and yet actively undermine, the teleological trajectory and linear temporality that the species achieves," says Effy.
The winner of the prize will be announced at the 2018 Modernist Summer Party, which is a free event that's open to all. This year's judges are Rachel Cusk, Jeremy Harding, Gillian Wearing and Ryan Wigglesworth.
"I am very pleased to be named a finalist for the prize. 'Even if it is Only a Whisper' will be performed live by the brilliant Madeleine Mitchell and Gordon MacKay at the prize giving ceremony, and it will be very exciting to hear the piece in the context of the other shortlisted works," says Effy.
The Ivan Juritz Prize was established in 2014 to celebrate the creative explosion of the modernist era and reward art that seeks to 'make it new'. The prize is open to postgraduate students from throughout Europe in any artistic medium that play with form to make us think, feel and question. Winners receive £1000 and spend the first two weeks of September at Cove Park, engaging in a residency and showcase. 
To see the list of shortlisted candidates and to listen to Effy's piece, click here.
To see Effy's portfolio of works, click here.

If you'd like to register for the 2018 Modernist Summer Party event, click here.