30 June 2022
King's runner up at Mayor's Entrepreneur competition talks future plans
Chemistry teacher and MA STEM Education student Francis Jones talks to us about the next steps for his big idea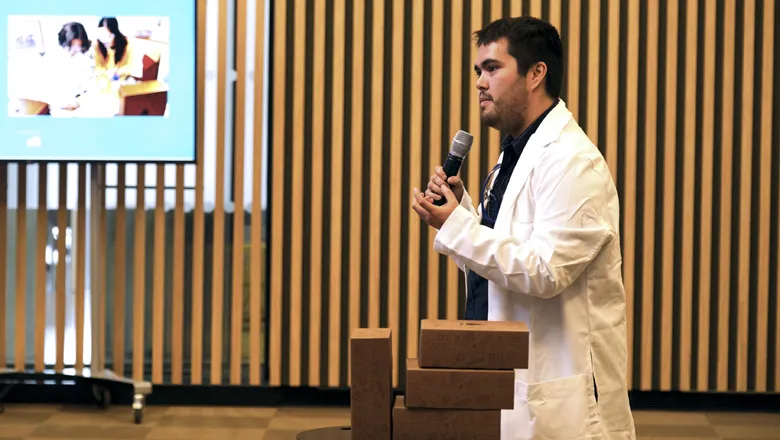 At the final in May of the Mayor's Entrepreneur competition, King's student and chemistry teacher Francis Jones pitched his project in person to the Mayor of London and a panel of celebrity judges.
Called STEM@Home, Francis's project delivers a subscription box full of practical science experiments and past exam questions to secondary students' doorsteps every month. What's more, STEM@Home aims to distribute its boxes for free to students across London who need educational support but cannot afford it, in line with the 4th UN Sustainable Development Goal of Quality Education. Francis came up with the idea in the midst of COVID-19, realising that students would be tested on practicals despite not having had a proper chance to complete them. Rewriting the metaphorical formula, Francis came up with a new way of doing chemistry experiments – and the project is already reaping benefits: students receiving the boxes have seen their marks bumped up by as much as two grades!
Placing second in the Social Enterprise category – the best result for King's this year – Francis's journey as an entrepreneur in EdTech is far from over. We caught up with him to learn a bit more about his experience, and what STEM@Home plans to do next.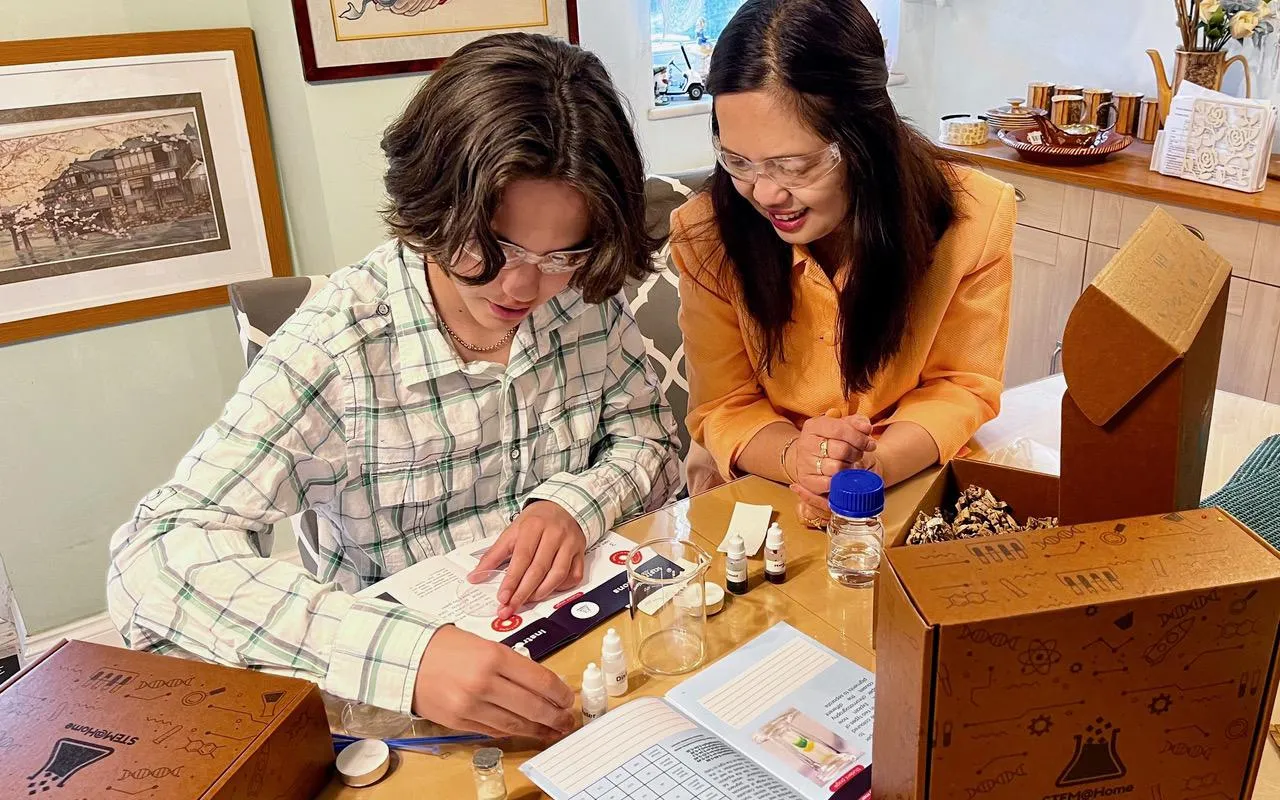 Image courtesy of STEM@Home.
What was it like representing King's at the final?
Very daunting. This year, there were two finalists from King's out of 25, so I felt like I had to really show how great the entrepreneurial spirit at King's College London was and not let other universities sweep the competition!
What was the best part of the competition for you? And the most challenging part?
The best part was being able to present STEM@Home to even more people and get professional insight into my products. The most challenging part was seeing how strong all my competitors were, but that just encouraged me to try and be better!
What kinds of skills do you think your experiments help build in students?
A tangible understanding of how their respective science experiments work. It encourages students to develop critical thinking skills as well as problem-solving skills, and it also enables them to think about how they can improve their results.
Have you received any comments from STEM@Home customers?
Parents love how it's outside school time (OST) learning that is not screen based. Most OST learning is digital, and many parents really want to get their children away from their devices. Having a physical kit instead, complete with all the required items, really makes parents happy.
What's your favourite experiment that you'd like to fit in a box?
I'm from a chemistry background, but I love the biology experiment where students grow their own bacteria cultures using swabs taken inside their mouths. It's just funny when students physically see how much bacteria they have inside their bodies – it's a mixture of disgust and amazement…
Seeing as your idea was shaped by COVID, would you change it in any way to suit the post-COVID environment?
I want to make sure that STEM@Home empowers students to do their science experiments at home in tandem with what they do in school. The joy of science learning is slowly diminishing because students are losing time previously dedicated to playing and experimenting with new ideas (teachers report that lack of time is the overwhelming factor for not revising experiments). Over the last few months, I have been developing STEM@Home at the Central Research Laboratory in Hayes, and I've gained a love of 3D printing. Being able to make stuff myself through trial and error and applying my real-world experiences to the manufacturing process is satisfying and life-changing. I want to disrupt the sector and empower students to play, experiment and most importantly, learn at home.
What are the next steps for you and STEM@Home?
Well, I'm planning on working on STEM@Home full-time. Our soft launch is starting in August 2022, with an official launch planned for this Christmas. Currently, I'm currently on an accelerator programme with major social enterprise company TPXimpact, who are helping me ensure as successful a launch as possible. I have also recently been accepted to the EDUCATE Edtech accelerator at the UCL Institute of Education, who are helping me research the efficacy of STEM@Home's products.
I have received plenty of support and mentorship during the development of STEM@Home, so now I'm paying it back by becoming a mentor with the Fishbowl Challenge. Fishbowl works to help brand-new EdTech start-ups take their first step. I chose to become a mentor with them because I realise how lucky I was with the support I got. A big shout out to Dr Richard Brock, lecturer in Science Education, and Andrew Mossop from Student Skill Store! I really see myself reflected in new start-ups, so I want to make sure they get the help they need.
In this story