30 January 2019
King's Sport accredited by ground breaking dual career scheme
Affirming King's ambition to ensure students can reach their potential in education alongside achieving success in their sport.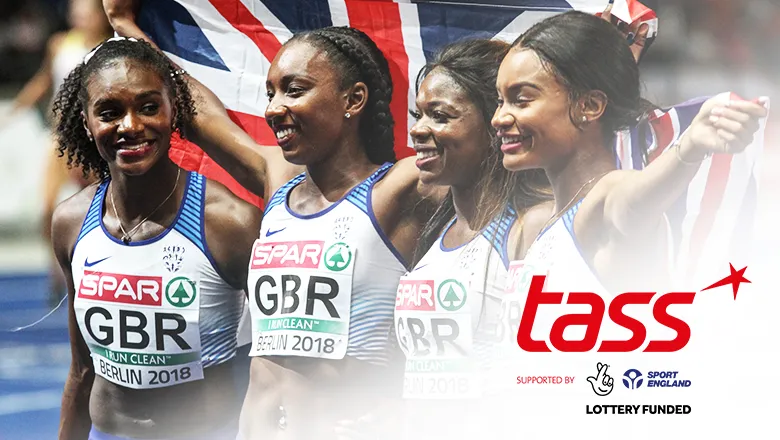 Dina Asher-Smith (far left) and Imani-Lara Lansiquot (far right) at the European Athletics Championships 2018.
King's Performance Sport Athletes Dina Asher-Smith (far left) and Imani-Lara Lansiquot (far right) at the European Athletics Championships 2018.
Kings College London is leading the way with supporting talented athletes in education in England, having been accredited by a new TASS initiative.
The Sport England-backed programme supports young sportspeople on the talent pathway to have the opportunity to gain qualifications alongside their sporting pursuits and follow other interests and personal development. By formally recognising an institution's commitment to supporting student athletes, the TASS Dual Career Accreditation Scheme aims to allow athletes to reach their potential in education alongside achieving success in their sport.
Vice-President and Vice-Principal (Education) Nicola Phillips, who supported King's Sport in obtaining the accreditation said: "I am extremely proud of the achievements of King's Sport. King's has become the first Central London University to be Accredited as a TASS Dual Career Centre, enabling us to support the next generation of talented student athletes."
"The accreditation is a recognition of King's status as a world-leading university, and a destination for high achieving individuals to perform at their optimal levels not only in their sporting careers, but also in their chosen area of academic study. We look forward to welcoming the next Dina Asher-Smith to join our University community!"
Referenced within the Education section of Baroness Tanni Grey-Thompson's Duty of Care in Sport Review published in April 2017, accreditation shows that university or college has the ability to support students following a dual career route. Backing the scheme, she said: "I believe we have to a duty to help young people to achieve their potential, whilst prioritising their welfare, wellbeing and education. For the vast majority of athletes, skills and formal qualifications are needed to help them find alternative careers, either alongside their sporting activities or once their sporting days are over."
"For me the TASS Dual Career Accreditation Scheme is a vitally important measure to ensuring all athletes have the chance to pursue an education and enjoy a more well-rounded approach to life."
As a Dual Career Accredited Site, Kings College London will be an important extension of the network of universities that already partner with TASS, delivering core support services to more than 600 student athletes each year. These support services include physiotherapy, nutrition, lifestyle support, psychology strength and conditioning and a private medical scheme.
While some of the existing services delivered focus solely on developing the young person's sporting performance, a dual career support structure and academic flexibility policies are central to the help available to athletes based at an Accredited Site.
All Dual Career Accredited Sites receive training and a toolkit of resources to equip them with practical dual career support and bring together all parties who work with the athlete. 
Dina Asher-Smith, King's College London, King's Sport Performance Athlete Alumni and GB 100m Olympic Medallist said about her experience: "The King's Sport Performance Programme is great. It provides invaluable support, whether that's financially, giving you access to performance facilities, or just helping and being someone to talk to. Many universities would benefit from having a programme like we do at King's."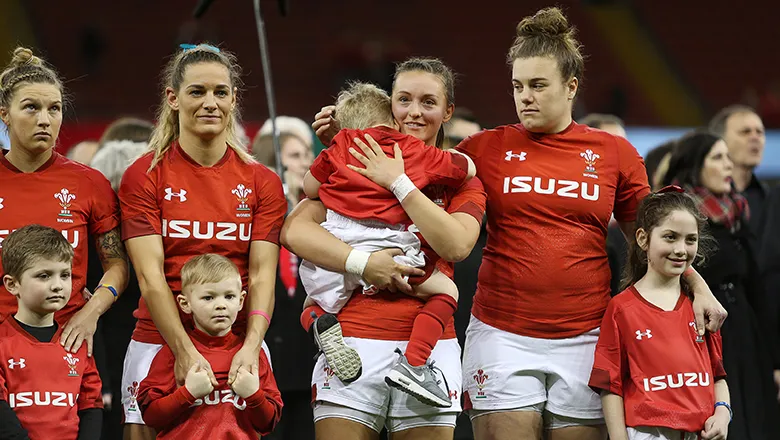 Jade Knight, King's Sport Performance Athlete (third from right)
King's Sport Performance Athlete and international rugby player for the Welsh Rugby Union, Jade Knight (third from right).
For student athletes, the academic flexibility policies may mean they have the opportunity to access online notes or resources, are able to arrange catch up sessions with lecturers, or even reschedule deadlines or exam dates in exceptional circumstances.
Meanwhile for Kings College London and King's Sport, the recognition of becoming a TASS Dual Career Accredited Site cements its commitment to it's current Athlete's and those looking to study at King's in the future.
Current King's Sport Performance Athlete, Psychology Student and GB 100m International Athlete, Imani-Lara Lansiquot commented: "Although the challenges of juggling both an academic and professional sports career can be extremely trying, the programme at Kings has given me a support network that links the two domains together and alleviates some of that pressure. It has enabled me to do the two things that I love to the best of my abilities."
For more information on the King's Sport Performance Programme, please contact Health, Fitness & Performance Manager Zak Evans at zak.evans@kcl.ac.uk.
About King's Sport
King's Sport engages over 12,000 members of the King's Community on an annual basis with programmes ranging from King's Move, BeActive, Health & Fitness Gyms to the Performance Programme. Our ambition is to be the Most Active University in London, providing opportunities for all levels of ability and experience.
Find out more about King's Sport.
About TASS
TASS is part of the SportsAid family – we're funded by the National Lottery through Sport England with a brief to help young sportspeople juggle the demands of sport and education.
Since 2004 we've supported more than 6,000 sportspeople – enabling talented student athletes across the country to fulfil their academic and sporting potential.
TASS is recognised globally as a leader in 'dual career' and has worked with and advised bodies as diverse as the IOC, EU and many government and sporting organisations.
In 2018/19 we are supporting more than 600 athletes across 32 sports.
In this story