19 February 2020
King's students win UK leg of international mooting competition
A team of students from the Law School won the UK National Championship of the Philip C Jessup International Law Moot Court Competition last weekend.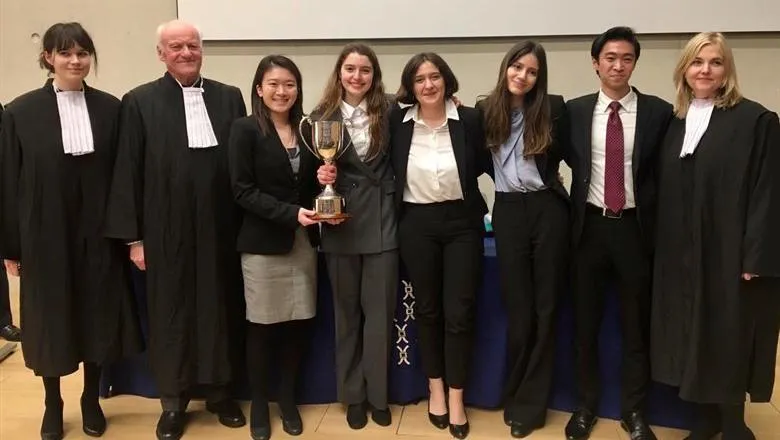 From left to right: Eileen Crowley (judge), Malcolm Forster (judge), Jing Wen So (LLB), Martha Lazanakis (LLB), Miriam Schuler (LLM), Eliza Mitsinga (LLB), Jonathan Tan (LLM), and Penelope Nevill (judge).
This is the fifth consecutive year that a team from King's has won the prestigious title - a new record in the National Rounds. The team will now represent the UK in the International Rounds of the Competition in Washington, DC, to be held in April.  
The successful team consists of Martha Lazanakis (LLB, second year), Eliza Mitsinga (LLB, second year), Jing Wen So (LLM), Miriam Schuler (LLM) and Jonathan Tan (LLM).
In their route to the title, the team met strong competition from the London School of Economics (Quarter-Finals) and the University of Cambridge (Semi-Finals).
Facing the University of Oxford in the Final, the team was unanimously declared UK National Champions before a distinguished panel, composed of Malcolm Forster (Consultant, Freshfields Bruckhaus Deringer), Penelope Nevill (Barrister, Twenty Essex) and Eileen Crowley (Associate, White & Case LLP).
Martha Lazanakis was named the Best Oralist in the Grand Final, while the team also shared the prize for Second-Best Overall Memorials with the University of Oxford.
Now in its 61st year, the Jessup International Moot is the world's largest moot-court competition, with participants from over 700 law schools in more than 100 countries and jurisdictions. The Competition is a simulation of a fictional dispute between countries before the International Court of Justice, the United Nation's principal judicial organ.  
The team has been working on this year's problem for several months, which touches on contentious and undecided issues in public international law, including the legality of trade tariffs and lethal autonomous weapons systems. The team were coached by King's alumni Andrew Brown (LLB, 2019) and Caleb Kirton (LLB, 2017). This is Caleb's third year of exceptional coaching success.
The team and coaches are grateful for the support that they have received in preparation for the Competition – including to Andrew Carruth (Barrister, Quadrant Chambers). They also sincerely thank King's academic staff for their support and advice – including, especially, Professor Philippa Webb.