10 December 2020
King's team rises to the (University) Challenge!
A student from the Department of Political Economy is a member of the King's College London team that has advanced to the quarter finals of this year's University Challenge.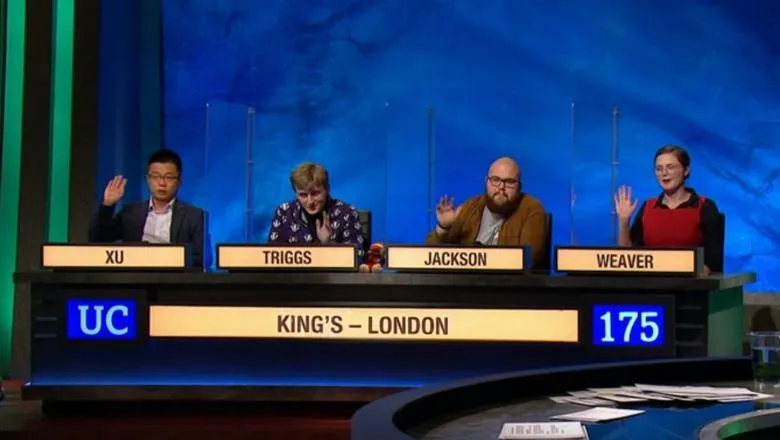 The King's College London team on University Challenge. Picture: BBC
Louis Triggs, who is studying politics, philosophy and law, was among the King's quartet which faced off against Glasgow University on the long-running TV quiz show on 7 December.
Louis was joined by teammates Simon Xu, studying for a PhD in cardiovascular science, team captain Sam Jackson, studying war studies and history, and Grace Weaver, studying medicine.
A strong showing from the team saw them claim victory by 175 points to Glasgow's 90, booking passage through to the latter stages of the event. Their latest success followed hot on the heels of their equally impressive victory over York University, by 170 points to 100, earlier this year.
Louis impressed in particular with his knowledge of literature. You can watch the episode on full on BBC iPlayer.
Simon Xu and Louis Triggs on University Challenge. Picture: BBC.