28 February 2019
King's winners take on the world's biggest challenges
Students and alumni address some of society's most pressing issues.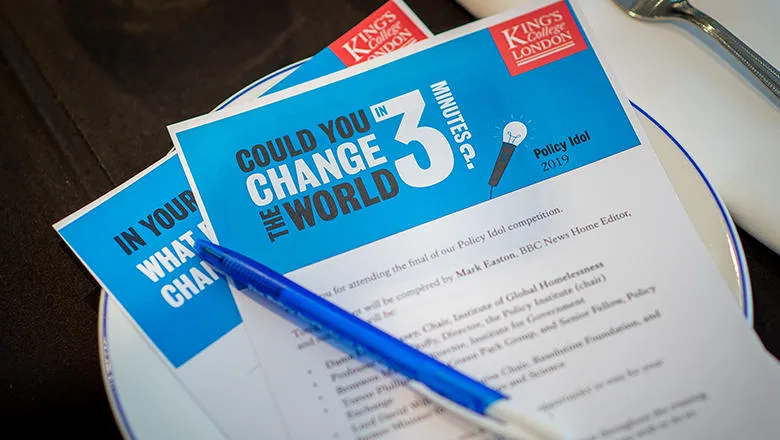 Ways to make the fashion industry more sustainable, a renewable community energy project and a Spare Room initiative for students who need to get out of tenancy contracts are just some of the innovative ideas that King's students and alumni have come up with to solve some of the biggest challenges in the world at the moment.
The concepts were borne from two competitions – Idea Factory and Policy Idol – run by the King's Entrepreneurship Institute and Policy Institute, respectively, and were showcased at two events held this week, which were attended by distinguished guests from across London, students, staff and alumni.
Idea Factory is open to all King's students, staff and alumni and aims to find the best ideas from across the university that have the potential to grow into successful ventures. The winners are awarded funding totalling £6000 and follow-on support from the Entrepreneurship Institute to turn their ideas into reality.
Winners included Aysha Ingar, who devised an app for Muslim women to help them integrate their religion into their daily life, Claudio Marseglia, who worked with a team to create a one-time purchase shoes that can prevent Mossy Foot disease and, Sheena Karia who co-founded, Take My Room, a website that provides spare rooms for students who need to get out of tenancy contracts.
Policy Idol, organised by the university's Policy Institute is an annual competition open to all current students and staff at King's in which participants pitch their policy ideas to a panel of leading figures from the worlds of politics, academia and industry.
The winner, Cristina Zheng Ji, suggested an innovative method for labelling clothing according to its environmental impact. Other prizes were awarded to Ratidzo Chinyuku who was commended for her proposal to scrap Home Office fees for child dependents, Robert Adderley who presented a policy to install telematics in cars and Florian Eblenkamp, Aura Rivera and Matias Vergara-Herrera who were selected as the audience favourite, for their renewable community energy project.
Julie Devonshire OBE, Director of the Entrepreneurship Institute said: 'It's vital that we support early stage ideas. The diverse ideas our students come up with are exciting and inspiring and show that students care deeply about creating a better world - from sustainability and development to mental health, safety and culture.
'Their ideas can also be challenging and disruptive and make you think about what the world will look like for future generations as technology and automation advances. We're here to help students implement their ideas and to gain the skills and confidence necessary to make real, positive changes to society. Congratulations to all of our finalists and we can't wait to see your ideas become reality.'
Bobby Duffy, Director of the Policy Institute said: 'This year's finalists really were the pick of the crop from some of the best entries we've had in the competition yet. Throughout every stage of Policy Idol 2019, the quality of ideas and enthusiasm of pitchers have been a delight to see. Every single policy pitch our students came up with has been uplifting and inspiring, as they take on some of the world's biggest challenges with fresh thinking and determination.'
Baroness Deborah Bull said: 'At King's, we aim to equip our students to be the change-makers of the future, through interactive and engaging learning experiences in which education and innovation sit side-by-side. Policy Idol and Idea Factory are an excellent example of this: in developing visionary ideas to address some society's most pressing challenges, our students are putting their education to work in imaginative ways, serving while they learn and learning while they serve.'
Read more about the Policy Idol event: https://www.kcl.ac.uk/news/news-article?id=7f078b66-e0dd-47c2-92c8-e901cef76904
Find out more about Idea Factory: https://www.kcl.ac.uk/entrepreneurship/skills-programme/idea-factory