26 April 2018
King's wins best team prize in Day of Crisis competition
Between 13-14 April 2018 The Dickson Poon School of Law participated in the 'Day of Crisis', hosted by the University of Paris Nanterre, an academic competition sponsored by Simmons & Simmons. Student teams were presented with a series of international crises which they had to try and resolve within a 24 hour period.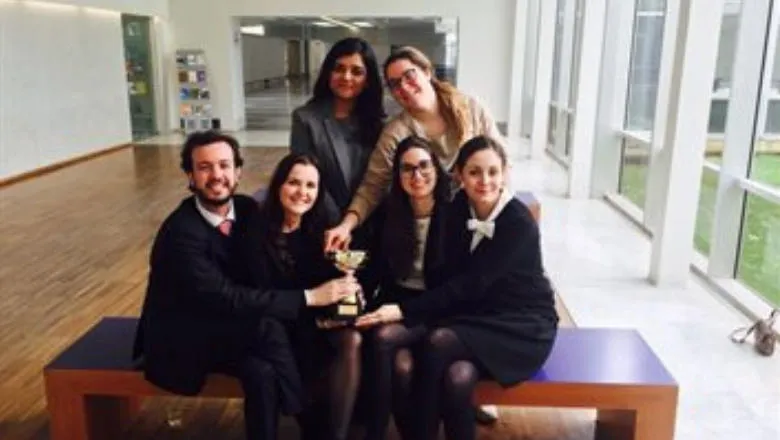 The 'Day of Crisis' winners 2018
The competition involved teams from universities in 6 countries: Australia, France, Russia, Belgium, Germany and the UK, with each team representing governments and international organisations. This 24-hour non-stop international law and diplomacy competition challenged students' knowledge of public international law, and their skills in teamwork, drafting, negotiation and working under pressure.
The Day of Crisis began on Friday morning and concluded with a special session of the United Nations (UN) General Assembly the following day. A jury of legal experts were convened, chaired by Mr Nicola Bonucci, Director of Legal Affairs OECD.
The challenges faced by teams in this year's competition included the secession of California from the United States of America, a shipwreck in the strait of Bosphorus resulting in a disperse of chemical waste and its subsequent closing by Turkey, a cyber attack, the legality of fake news, EU data protection and the appropriation of spatial resources. Teams had to produce 16 pieces of written advice and conduct 3 negotiations during the 24 hours.
Teams represented the governments of the United States of America, Republic of Turkey, Russian Federation, Georgia, the United States of Mexico and the Office of the Legal Adviser of the UN. 
During the culmination of the event at the General Assembly special session, teams stated their positions on a Draft Resolution and took questions from the jury. The delegations were also asked to respond, on the spot, to the air strike in Syria by the United States, France and the UK, taking place earlier that morning.
The overall winner of the competition were King's College London. This is the fourth time King's has won the competition, making it the most successful team in the competition's history. The team – called Kronos Consulting – was made up by LL.M. students Anasuya Choudhury, Pedro Henrique Carvalho de Assis Martins, Lauranne De Lathauwer, Gabriella Ottoboni Bianchini and Marion Reffay. They were coached by Visiting Lecturer Giulia Bernabei, Visiting Lecturer Niccolò Ridi and assisted by Luigi Lonardo, Graduate Teaching Assistant at the War Studies Department. They were advised by Dr Philippa Webb. 
Second and third place were awarded to the University of New South Wales, Australia and Louvain University, Belgium respectively.  In addition to winning the first prize, the King's College London team also placed second in the category of 'best negotiatiors'. 
The Day of Crisis competition was founded by Professor Jean-Marc Thouvenin at Université Paris Nanterre X in 2012. International law firm Simmons & Simmons have been active sponsors since its inception. This year's event and prizes are sponsored by Simmons & Simmons Paris Office.