10 May 2021
Kira Lewis: Becoming a change-maker
The story of how one King's student helped shape the movement bringing diversity to charity boards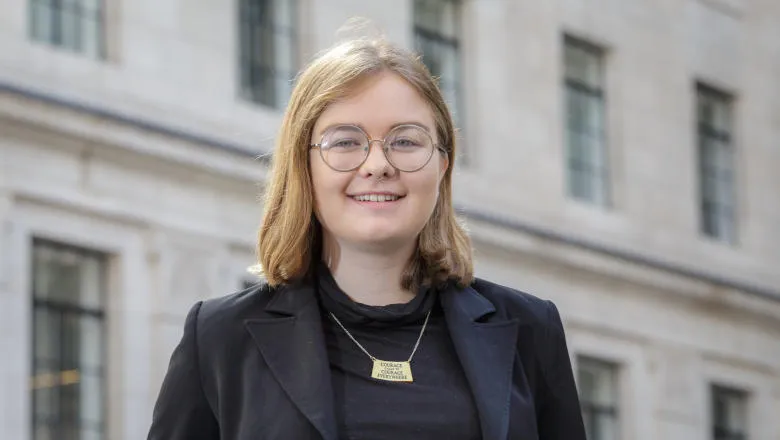 There are about 170,000 registered charities in the UK. Less than 3% of their trustees are under 30, but one in twelve is named David or John. This is the story of how one King's student helped shape the movement spearheading change.
Kira Lewis, who at the time was a soon-to-be third year War Studies student, was doing a spot of photocopying when they saw the note. Work with community partners to address some of London's most complex social issues, read the screensaver. Be a part of King's Civic Leadership Academy.
Originally from Somerset, Kira is the first in their family to go to university. "I'd not visited King's before I enrolled, so moving to London was a huge cultural shock. The stately buildings of Bush House and the grandness of it all, at times, felt quite intimidating. I never thought I'd be studying at a place like this."
Like a lot of students, Kira spends much of their free time working to support a life in London. King's Civic Leadership Academy (CLA) had caught their eye because of the fantastic experience it presented. But it being a paid opportunity – students receive a £3,000 bursary – that meant Kira could actually afford to take part.
I wanted to do something for the city, and this seemed like a great way.

Kira Lewis
'Living in halls in Zone 1 can sometimes feel like you are in a bubble,' says Kira of their initial motivation. 'I felt that CLA would allow me to step outside of this, to be part of London and get to know people beyond my area and university. I wanted to do something for the city, and this seemed like a great way to do so.'
Students taking part in CLA work on projects designed by community organisations across London. They commit 300 hours of their time over nine months to deliver work that enhances the impact of their placement organisation, addressing issues like mental health, poverty, education and homelessness. Along the way, students participate in a leadership development curriculum designed by King's in partnership with Citizens UK, to support them in becoming highly employable, civically minded and engaged citizens.
I was like, straight up, this is what I want to do. I was so buzzed.

Kira Lewis
After joining CLA, Kira had the opportunity to choose one of King's community partners. They'd previously been part of the 3% and had seen first-hand the benefits of diverse boards, so one organisation lept out at them. The Young Trustees Movement (YTM) seeks to double the number of charity trustees aged 30 and under by 2024. They also aim to ensure that boards reflect a more diverse demographic. 'I was like, straight up, this is what I want to do,' remembers Kira. 'I was so buzzed about it.'
Mita Desai is Programme Manager at the YTM and worked closely with Kira. 'I was always impressed with the inclusive lens that Kira raised,' says Mita, who herself was once a young trustee. 'Their earlier experiences on charity boards was serendipitous and offered a great deal of direction. I'm also a dinosaur when it comes to using social media, so Kira's knowledge of how to use platforms helped spread the word of the movement.'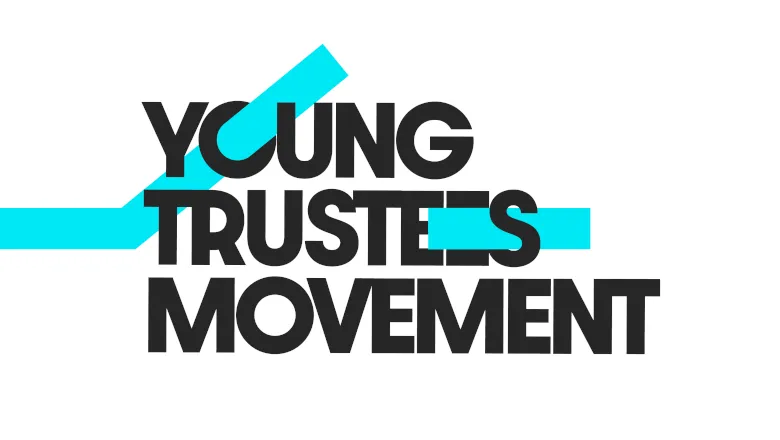 And spread it did. Having built a strong personal social media following, Kira knew how to engage with young people. They coordinated the launch of the YTM's presence on Twitter, sending the movement viral. The account's inaugural tweet reached 62,000 people and generated 877 profile visits in the first 48 hours alone. All this activity led to engagements with the YTM homepage increasing by 1,500% on the first day.
Beyond this successful launch, Kira had a hand in shaping every aspect of the YTM's work. From branding and copy to strategic planning, their input wasn't only welcomed but encouraged. 'The fresh perspectives Kira brought have been key,' says Mita. 'There were so many times when they positively challenged my way of thinking, for the betterment of the strategy.'
Mita was like my idol, and it was an amazing opportunity to work with her.

Kira Lewis
'This does require putting in place a culture where views and input are valued. Giving time and putting space in the diary to ensure that interns like Kira are clear on what needs doing. And that they know what support is in place to do that job well.' This willingness to challenge and be challenged made a lasting impression on Kira. 'I felt valued when the YTM constantly asked for my feedback, and the trust they had in me,' they say. 'Mita was like my idol, and it was an amazing opportunity to work with her.'
Later, Kira used their time with the YTM to inspire a whole new generation of trustees. Student Board Bank, a collaboration between King's and KCLSU, supports students to become trustees to address the under-representation of young people on charity boards. Joining the panel at the launch event, Kira shared the great experiences they'd had working with Mita and the YTA. 'It was so great that people came up after, saying that they wanted to be on a trustee and asking if I could help them. Being able to share something I was so passionate about was awesome.'
There were so many times when Kira positively challenged my way of thinking, for the betterment of the strategy.

Mita Desai
The whole CLA experience was nothing short of life-changing for Kira. 'It helped me understand what I wanted to do in the future, and has given me experience and skills I can use when preparing for job interviews. I've now got relevant and meaningful experience that I can draw upon.'
On top of this, CLA has re-energised Kira's ambition to create change. 'The experience demonstrated to me how policy activism does matter. It's important to think about how we apply this in the communities we operate in.'