26 February 2019
Lambeth mentoring pair excel
A King's graduate supported a school pupil to gain confidence and achieve academic success.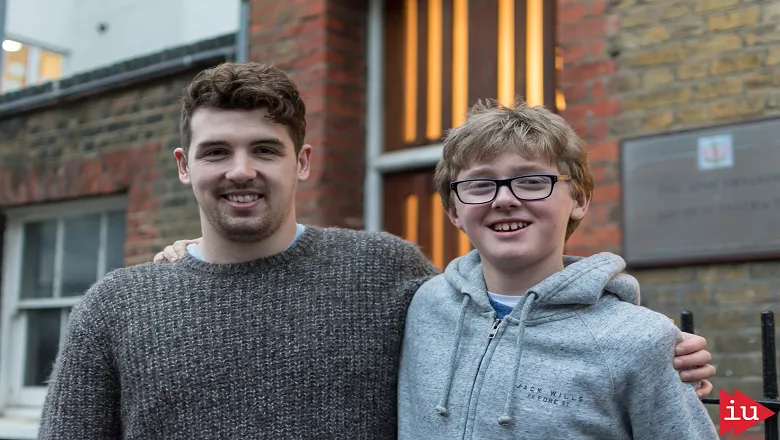 Lambeth mentoring pair excel
A King's graduate supported a school pupil to gain confidence and achieve academic success. 
IntoUniversity supports young people from under-represented backgrounds to secure either a university place or another chosen aspiration or career path. At learning centres across the UK young people are offered academic support, mentoring and programmes that encourage them to achieve their aspirations.
IntoUniversity Kennington, which receives sponsorship from the Widening Participation department at King's, sees 70 per cent of pupils who attend their learning programmes go on to university compared to a local average of just 42 per cent.
History graduate Jack was one of 23 King's students who took part in a mentoring programme with IntoUniversity in 2017/18. He worked with Year 11 student Luke providing mentoring support, 1-1 tuition and handwriting help.
King's History graduate Jack and his Year 11 mentee Luke talked about their mentoring experience.
Jack, where did you hear about IntoUniversity and what inspired you to volunteer?
Jack: 'I heard about IntoUniversity through the King's College London's volunteering website. I chose to volunteer with them because of the one-to-one support the charity offers. I didn't want to just be in a classroom. I wanted to build a relationship with someone, see them consistently and witness a direct impact. I also like how much autonomy you have as a volunteer. Staff offer a lot of suggestions, but it is not too controlled.'
Luke, why did you want support from an IntoUniversity mentor?
Luke: 'My History teacher suggested I should get involved with the University Mentoring Scheme. I was keen to get on with my studies and develop my social skills as I was a very shy person and kept things to myself. Since coming to IntoUniversity and with the support of my mentor, Jack, I have been able to come out of my shell.'
Jack, what is your best memory of volunteering with IntoUniversity?
Jack: 'My best memory is the speech my mentee and I did at the Mentoring Graduation. We spoke about our experiences with mentoring and why mentoring matters. What I enjoyed most about volunteering with IntoUniversity is that I always felt part of the team. It was a family environment and I never felt as though I was coming to work. I always felt involved. The core skills I improved whilst volunteering were organisation and time management. I have also developed my teaching skills and how to pass on my knowledge effectively. I would recommend volunteering with IntoUniversity. It's so flexible and it is such a two-way experience. You get so much out of it, whilst also giving to someone else.'
Luke, what have you gained from having an IntoUniversity mentor?
Luke: 'Since working with Jack, my History grade has improved dramatically. I've even been able to get a head start with the next topic we'll be covering in school – all thanks to Jack! I'm more of leader now too: I support the younger students at school and I'm a Prefect! Having Jack as a role model has helped me to see how you should deal with younger students.'
The positive partnership helped both Jack and Luke: Jack's impactful mentoring experience helped him secure a place on IntoUniversity's very competitive graduate scheme and Luke was accepted into his top choice Sixth Form.