19 November 2018
Landmark study offers hope for peanut allergy sufferers
Researchers from King's College London and Evelina London Children's Hospital have taken part in a major study that could lead to a ground-breaking new treatment for peanut allergy.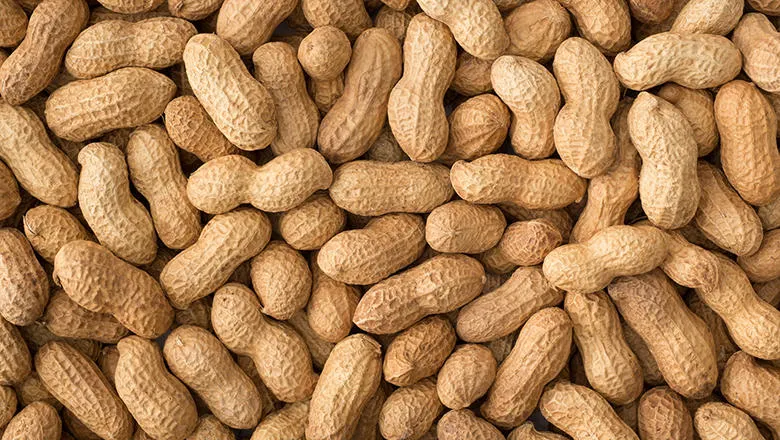 Peanuts
The trial involved Evelina London patients with a severe peanut allergy taking increasing amounts of peanut protein over a year. Participants started the study not being able to tolerate exposure to a tenth of a single peanut.
The results, published in the New England Journal of Medicine, found that two-thirds (67%) of children and teenagers were able to tolerate at least 600mg of peanut protein, about two whole peanuts, at the end of the trial. This compared with just 4% of participants on a placebo.

Peanut allergy is a potentially life-threatening condition, which has doubled over the last two decades and affects around 1 in 50 children in the UK. Peanut allergy is rarely outgrown and is the most common cause of food allergy deaths.
There is currently no cure for peanut allergy. Treatment involves strict peanut avoidance, which has been shown to severely affect quality of life.
The results of the PALISADE study mean people living with severe peanut allergy could be protected from life-threatening reactions that arise through accidental exposure by building their tolerance level. This type of treatment is known as immunotherapy, and is already used to treat pollen and bee sting allergies.
Professor George du Toit, Honorary Senior Lecturer at King's and paediatric allergy consultant at Evelina London said: "The results of this ground-breaking study are very promising and suggest that we will be able to protect children who are allergic to peanuts from having a severe reaction after accidental exposure.
"This is extremely good news as the number of children being diagnosed with peanut allergy in the UK has more than doubled over the past two decades. Peanut allergy is extremely difficult to manage for children and their families, as they have to follow a strict peanut free diet. Families live in fear of accidental exposure as allergic reactions can be very severe, and can even lead to death.
"Until recently there has been nothing to offer peanut allergy suffers other than education around peanut avoidance and recognition and self-treatment of allergic reactions.
"These findings could lead to a significant shift in our management of peanut allergy as we now have data from a large randomised trial that oral immunotherapy worked for most of the participants."
The PALISADE trial recruited nearly 500 children aged four to 17 from over 60 sites across the US and Europe.  Evelina London was one of the lead recruiters to the study, which is the largest ever peanut allergy treatment trial.
During the study participants were randomly assigned into groups that either received capsules of peanut protein or a dummy powder. The amount given gradually increased every two weeks over a period of about six months, with participants continuing on a maintenance dose of peanut for a further six months. Neither the participants nor the staff collecting the data knew which group they were in.
Sophie Pratt, 44, from Kentish Town in North London enrolled her six-year-old daughter Emily in the PALISADE study. Emily was diagnosed with a severe peanut allergy aged one.
Sophie said: "The study has completely changed our lives. Before Emily took part we were uncomfortable being more than twenty minutes away from a hospital and she wasn't able to attend play dates or parties without me or my husband being there.
"We had to constantly study food labels to ensure peanuts were completely eliminated from Emily's diet. Her allergy was very severe so even a small amount of peanut could lead to a very serious reaction. The impact on our family life was huge."
Sophie, who also has an 11-year-old son, added: "Emily took part in the study for a year and at the end of the trial she was able to tolerate around seven peanuts. We can now let her socialise with friends and do all the normal things that other children do without worrying that she might have a severe reaction."
The study was funded by Aimmune Therapeutics, which manufactures the peanut protein used during the trial.