18 March 2015
Latifa Al-Darwish honoured by the Gulf Cooperation Council
CMCI student Latifa Al-Darwish has been honoured by the Gulf Cooperation Council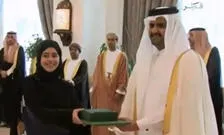 Latifa Al-Darwish
Congratulations to CMCI student Latifa Al-Darwish who has been honoured by the Gulf Cooperation Council with an award for her work as a filmmaker and for her her contributions to social, charity and volunteer campaigns. 
The ceremony took place in Qatar, where the Deputy Emir Sheikh Abdulla bin Hamad Al-Thani honoured executive leaders and outstanding young people in the GCC countries for their influential role in the field of youth action and sports. 
The Gulf Cooperation Council member states are Bahrain, Kuwait, Oman, Qatar, Saudi Arabia, and the United Arab Emirates.