28 March 2018
Launch of King's Global Health Institute
King's partners with global leaders to drive healthcare improvements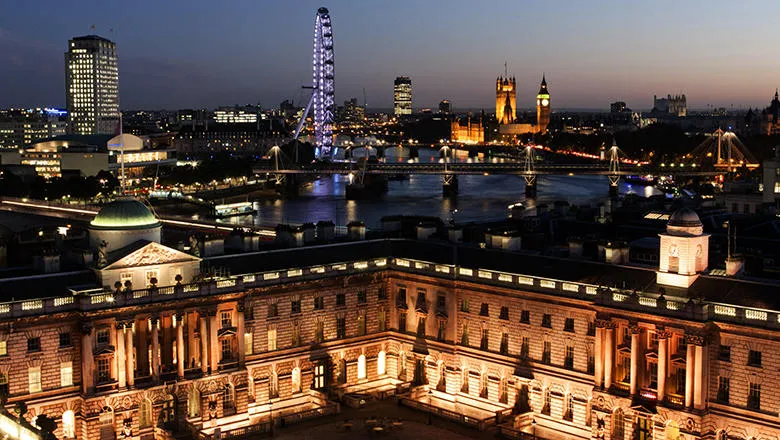 Global leaders gather at Bush House
Global health leaders gathered at Bush House on the 27 March for the launch of the King's Global Health Institute (KGHI). The Institute will act as a focal point for the growing community of researchers, educators and students working in Global Health at King's College London.
President & Principal Professor Ed Byrne welcomed 120 guests including Professor Chris Whitty, Chief Scientific Advisor at the Department of Health and Social Care. Professor Whitty delivered the event's opening address that focused on the UK's contribution to global health and the areas where King's broad expertise could make a telling difference.
With more than 100 academics and post-doctoral researchers affiliated to KGHI from across King's health, arts and sciences schools, the Institute will be well placed to deliver a truly interdisciplinary approach to research and education.
Areas of focus for the Institute will include healthcare delivery in the context of continuing care, environment, conflict and health. These areas fit well with the expanded agenda of the new UN Sustainable Development Goals, in particular Universal Health Coverage.
Director of the Institute Professor Martin Prince said: "This is an incredibly exciting time for King's as we harness our interdisciplinary strengths across the arts and sciences, including social science, global affairs, and policy studies; working with our health researchers to develop radically different approaches to delivering healthcare in challenging circumstances."
The Institute aims to improve the coverage, equity, quality and outcomes of healthcare in some of the world's most challenging and least resourced settings. Reflecting King's Vision 2029, the Institute's principles include a commitment to serve through partnership and capacity-building.
As Global Health activity grows across the UK Higher Education sector, the Institute looks forward to pursuing opportunities for inter-institutional collaboration in research, education and capacity-building.
For more information about King's please visit the  King's in brief web pages.
World-changing ideas. Life-changing impact:  https://spotlight.kcl.ac.uk/