26 March 2015
LawWorks & Attorney General Student Awards 2015
English student Jessica Howard leads the winning team of King's students in this year's Law School Challenge
Winning Team of King's Student
A King's team led by English student Jessica Howard was announced as the winner of the 2015 Law School Challenge after raising over two thousand pounds for Pro Bono charities.
The Law School Challenge is a competition between universities to raise as much money as possible for the Pro Bono charities LawWorks and the Bar Pro Bono Unit. The winners were presented with an award at the LawWorks and Attorney General Student Awards by Jeremy Wright QC MP last night.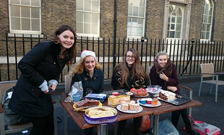 'I had never undertaken fundraising on such a large scale,' says Jessica. 'To begin with, we focused on small events such as cake sales but realised the effort and time these things took, weren't really worth the small amount we raised.' 
With this in mind Jessica decided to organise a 10 KM hike along the White Cliffs of Dover and instructed her teammates to focus their efforts on finding individual sponsors and asking people to pledge donations.
'The experience taught me invaluable things about leadership, organisation and persistence that I have no doubt will help me in all areas of my life,' says Jessica. Emily Shovlar, another English Language and Literature student was also involved, 'Doing something outside my normal interests and activities was a really good experience and the hike was a lot of fun,' she says.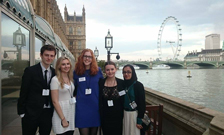 Congratulations to everybody involved!