29 July 2022
Learning lessons from the UK's self-isolation programme
Louise Smith
How effective were the UK's self-isolation policies in slowing the spread of Covid-19?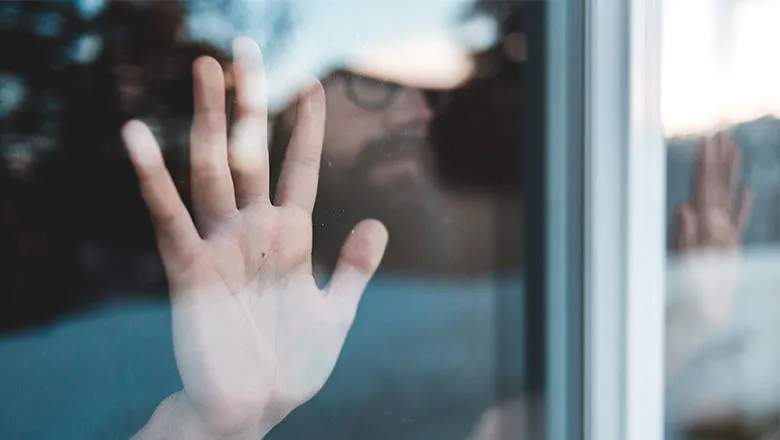 EPR HRPU Annual review
Read the collection
The National Institute for Health and Care's Emergency, Preparedness and Response Health Protection Research Unit (EPR HPRU) is a partnership between King's College London, Public Health England and the University of East Anglia.
This piece is taken from an essay collection showcasing the unit's critical role in the UK's response to Covid-19.
One of the most commonly used strategies to control the Covid-19 pandemic globally has been self-isolation of confirmed cases. This reduces the spread of the virus by limiting personal contact of those who are ill with Covid-19 with other people. Some countries enforced institution-based isolation throughout the pandemic, requiring people to self-isolate in designated quarantine facilities. However, the UK strategy relied upon self-enforced isolation.
For those who tested positive for Covid-19, self-isolation was a legal requirement in the UK from September 2020 until February 2022, when it became a recommendation rather than a requirement. Despite being a legal requirement for most of the pandemic, adherence to self-isolation has been low. Understanding why this is the case can inform policy, taking lessons forward to promote positive public health behaviours in the future.
The UK's approach to Covid-19 lockdowns
The UK government announced a nationwide lockdown on March 23 2020 in response to the novel coronavirus. People were only allowed to leave for a limited set of essential reasons and were required to self-isolate for 14 days if they, or anyone in their household, displayed any of the two main symptoms of Covid-19 – a new continuous cough, and a fever. In May 2020, a third symptom – loss of change in smell or taste – was added.
Restrictions were gradually eased over the summer of 202010 and the Test, Trace and Isolate programme came into effect. This required people to test if symptomatic, self-isolate if positive and share close contacts from the previous days with NHS contact tracers.
Then came the implementation of a series of changes to restrictions. In September 2020 the "rule of six" was introduced, limiting the size of groups to six people.
In October 2020, the tier system came into effect, introducing restrictions in local areas depending on case numbers in that area. This was followed by two more national lockdowns in November 2020 and January 2021. The self-isolation period was cut from 14 to 10 days in December 2020.
On February 22 2021, the Prime Minister published a roadmap for lifting lockdown, which involved the gradual removal of restrictions over summer 2021. At this time, there was also a large drive for people to get vaccinated for Covid-19 and to use rapid home testing (lateral flow tests). In December 2021, the self-isolation period was cut to seven days if people tested negative on day six and seven. In January 2022, this was further cut to five days, if you tested negative on day five and six.
On February 24 2022, the legal requirement to self-isolate was removed and replaced with a recommendation to self-isolate if symptomatic.
Did people adhere to self-isolation rules?
Adherence to the full self-isolation pathway was critical for its success as a strategy to reduce the spread of the virus. Our survey data suggest that 25 per cent of people who reported Covid-19 symptoms in their household in May 2020 had not left their home at all.
Across the first 11 months of the pandemic, an average of 42.5 per cent of people fully self-isolated when they had symptoms. However, people's intention to isolate was much higher, with around 70 per cent of people saying they intended to self-isolate if they had symptoms. This reveals a crucial gap between people's intentions and behaviours when it comes to self-isolating for Covid-19.
Reasons and risk factors
The intention-behaviour gap highlighted a need to understand the reasons and risk-factors for non-adherence. Among those least likely to follow self-isolation requirements were people working in a key sector, of lower socio-economic status, experiencing financial hardship, from areas of greater deprivation, and people with a dependent child in the household.
Men were also less likely than women to self-isolate. Young people were also less likely to self-isolate than older people – this was a common pattern during the pandemic This may be due to a desire to be socially active and maintain contact with friends, or due to the perception that Covid-19 is less of a risk to younger people.
Low rates of self-isolation could also have been driven by a lack of knowledge; only half of people identified a cough, fever and loss of taste and smell as main symptoms of Covid-19. This is important because symptom recognition can be a precursor to self-isolation.
Despite government information campaigns, people might not have recognised these symptoms because government information did not always name the symptoms. There was also a wealth of misinformation around Covid-19, as well as reports of other flu-like symptoms. To combat this issue, communication strategies could be targeted to groups with low adherence to self-isolation, to improve knowledge of symptoms, promote self-isolation, and combat narratives that promote breaking Covid-19 regulations.
Other explanations for not following self-isolation rules may include personal and situational reasons, such as helping someone from outside your household, working in a key sector, or having a lower socio-economic status.
Policymakers recognised the disproportionate impact of the pandemic on people from lower socio-economic backgrounds and the financial barriers that many people faced to self-isolate. By highlighting this disparity, our work directly informed policy that introduced the Test and Trace Support Payment scheme, which ran until February 24 2022. This helped people to self-isolate by providing a £500 grant to people on low incomes who were asked to self-isolate.
Psychological factors also influenced whether people followed self-isolation rules. Being worried about Covid-19 and a high perceived likelihood of catching the virus were associated with following the rules. In contrast, believing that you have already had Covid-19 and lower social pressure to follow the rules were associated with lower rates of self-isolation. This suggests that creating social norms around self-isolation would nudge people to follow the rules and engage in good public health behaviours.
Bridging the gap
Evidence-informed policy has had some success in bridging the gap between intention and behaviour when it comes to self-isolation; the proportion of people following self-isolation rules increased slightly over time to 51.8 per cent in January 2021, and the number of people with Covid-19 symptoms who requested a test also increased slightly. However, there is still a long way to go in ensuring that people follow public health regulations.
As of February 2022, in England, there is no longer a legal requirements to self-isolate when symptomatic, and final restrictions are being gradually removed in Wales, Scotland and Northern Ireland. However, the government still recommends that people self-isolate when they experience symptoms of Covid-19, the list of which has also expanded to include nine new symptoms.
Self-isolation continues to be a crucial strategy to combat Covid-19, with many workplaces and organisations maintaining their own self-isolation policies. Understanding adherence to self-isolation, and public health guidance more generally, also provides a valuable lesson that can be taken forward for future pandemics, to demand and inform effective intervention at the level of policy.
Louise Smith is a post-doctoral researcher in the NIHR Health Protection Research Unit