14 July 2015
Liberal Arts student profile: Farah Goutali
Farah Goutali gained a solid academic foundation and satisfied her thirst for knowledge while studying her BA in Liberal Arts at King's College London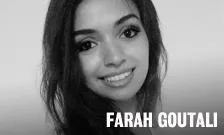 Why did you choose to study Liberal Arts at King's?
When I had to choose an undergraduate course, I felt it was too early to commit to one particular subject. I have always wanted to go to graduate school and I thought an interdisciplinary and broad undergraduate degree would give me a solid academic foundation before specialising. I was also attracted to KCL's BA Liberal Arts because it allowed me to pursue my favourite subjects, as well as safely try those I thought I would enjoy but had never studied before.
What has been your favourite part of the course?
I loved being able to tailor my own degree according to my interests and future career plans. Most degrees allow students to have some choice over modules but this choice extends cross-departmentally for Liberal Arts students. By the time I chose my major, Politics, I was convinced that this was what I really wanted to focus on. Having had a 'taster' of many different subjects and methodologies in the first year, I felt like I had made an informed decision that I could justify – something I may not have been able to do if I had jumped straight into a monodisciplinary degree after secondary school.
As a Liberal Arts student, I also had the option to undertake a credited internship. It was an amazing opportunity to get work experience while studying. I worked as a researcher and consultant for a software startup and was able to use the research skills I had acquired throughout my studies, as well as develop professional skills that a degree cannot provide. As the internship was credited, I had to write a journal and report on my time with the startup. This allowed me to reflect on my experience and track my own development, and gave me insight that I was able to use in my subsequent professional roles.
What has been your biggest challenge, and how have you overcome it?
The compulsory Liberal Arts core modules I had to take each year were quite challenging. They focused on interdisciplinarity and served as a 'glue' and conceptual background to the degree. This meant they were completely different from anything else I was doing and pushed me to work in new ways. In third year, for example, we had to undertake a group project. This was the first and only group assessment I had done throughout my whole degree. I was used to working independently, and had learned to enjoy working this way. Despite pushing me out of my comfort zone, the group project was an opportunity for me to experiment with different working styles and test myself. I also found that the unique nature and content of the interdisciplinarity-focused modules can make them seem daunting, but using the insights they gave me in other subjects really gave me an edge over fellow students based in mono-disciplinary departments.
Who would you recommend a BA Liberal Arts to?
I highly recommend the BA Liberal Arts to those with an insatiable curiosity, those undecided about the path they want to pursue, and those unsatisfied with traditional programmes. Curious students who want to broaden their areas of knowledge before specialising will benefit from the flexibility and openness that a liberal arts degree offers. Those who are unsure about the route they want to take will have time to experiment with different disciplines in the first year before choosing a major. On the other hand, those who find that the more traditional programmes on offer fall short of their ambitions will be able to tailor their degrees according to their specific interests and aspirations.