15 June 2015
Liberal Arts student profile: Julia Alcamo
King's College London Liberal Arts student Julia Alcamo enjoyed creating her own degree and gaining practical work experience while studying in the heart of London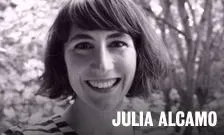 Creating your own degree
I chose to study Liberal Arts at King's for several reasons: Firstly, it was one of the few undergraduate courses in the UK that allowed me to choose modules freely from across Arts and Humanities, so I could essentially make up my own degree. I managed quite well, with a major in film studies and a selection of other courses, spread across ten different departments. Secondly, King's College is in London! I have always had a great interest in the arts, photography, design, music, dance etc. etc. – anything cultural you can think of. London, and the Strand campus' central location allowed me to really engage with this interest.
Gaining practical experience
Whilst at uni, I wrote reviews for various online magazines and online student platforms and this year I created my own blog. Several of my lecturers at King's encouraged me and helped me make contacts or finding interesting places to visit. Throughout my degree, I also made a point of taking modules that either related directly to the city or allowed me to make the most of what London has to offer. They were often some of the most interesting and engaging modules and they came from across the board – from ancient archaeology to German literature to religious-political affairs.
Wide-ranging opportunities
In my second year, I took part in the King's Experience Interdisciplinary Award, choosing the Beautiful Mind module, which allowed me to engage with completely new subject areas and use my love of photography in an assessment. I am currently undertaking a King's undergraduate fellowship and experiencing yet another learning curve! Although King's is a difficult place to feel at home in – because of its central, buzzing location and spread-out campuses – I have particularly enjoyed the academic opportunities it offers to its students.
A wealth of choices
I would encourage anyone who is looking to do Liberal Arts to make the most of the opportunities this course has to offer because there are few times in life that you will be able to learn simultaneously about the history of a pedigree dog and female voices in Ancient Greek literature! I have yet to face my biggest challenge. And that is choosing between them.