14 August 2019
Life-altering Algae image shortlisted at BHF 'Reflections of Research' photo competition
An image submitted by researchers from the King's British Heart Foundation Research of Excellence and University College London has been shortlisted at this year's BHF Reflections of Research image competition.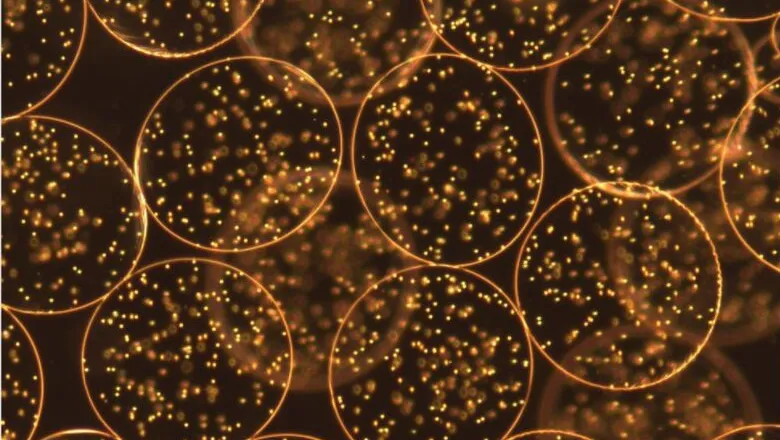 Life-altering Algae image, shortlisted at BHF competition
The image entitled 'Life-altering Algae' is of human monocytes, a type of white blood cell, that have been encapsulated in brown algae. Injecting these capsules in the legs of people with severely limited blood flow may promote new blood vessel formation and restore blood flow to the damaged areas. This algae-based treatment could reduce the need for amputations in people with critical limb ischaemia, when blood flow to the legs is severely restricted.
Professor Bijan Modarai from the School of Cardiovascular Medicine & Sciences said: "Our image highlights the benefits of a multidisciplinary approach and the important role of BHF funding for developing better treatments for patients with poor lower limb circulation. Our therapeutic capsules can be readily manufactured for clinical use, facilitating the next stage of our studies that will assess their efficacy for growing new blood vessels in the leg and preventing amputation." 
Simon Gillespie, Chief Executive at the British Heart Foundation, and one of the judges of this year's competition, said: "Science and art are two different ways of seeing the world, yet here we demonstrate how the two beautifully collide.
"These snapshots of the scientific world all tell a story about the complexities of the heart and circulatory system.
"Connecting science and art showcases new discoveries, sparks curiosity and helps to push for medical breakthroughs in our journey to save and improve lives, and to ultimately beat heartbreak forever."
The competition looks for the best images relating to research into heart and circulatory diseases, blending science and art. It also highlights the cutting-edge research into heart and circulatory diseases across the UK through captivating images.
Read more on the winning, runners-up and shortlisted images.