08 March 2022
Local charities meet King's students and staff at online Trustee Fair
Local charities from King's home boroughs of Lambeth, Southwark and Westminster joined King's first online Board Bank Trustee Fair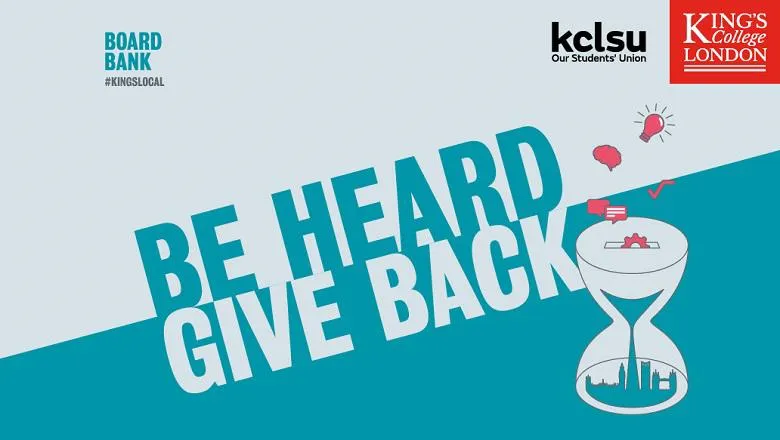 King's first online Trustee Fair aimed to connect local organisations hoping to recruit new board members with students and staff from across King's.
Taking place on Thursday 3 March, 26 local charities joined the Fair including Camberwell After Schools Project, who support local parents seeking further employment or education opportunities, and Carers' Hub, which supports unpaid carers who live in Lambeth or care for someone who lives in the borough.
Giles Semper, a trustee at Southwark Playhouse Theatre Company, welcomed the opportunity to make a variety of new connections with King's saying, 'we enjoyed meeting students and staff from across the university who are interested in taking their first step into trusteeship with us'.
Board Bank connects the King's community with local organisations that are looking to recruit new trustees. Developed in response to requests from local organisations to support them in recruiting trustees, it invites students and staff to learn more about trusteeship and potentially go on to be charity board members themselves.
Since its launch, hundreds of students and staff have joined sessions with trustee charity Getting on Board to learn about the role of a charity board member, the skills they could develop and the difference they could make within King's local communities.
The Trustee Fair follows this year's Discover sessions series that ran throughout February for students and staff. Many of those who joined these events are now being supported through hands-on masterclasses to find and secure their first role as a trustee.
If you're a charity in Lambeth, Southwark or Westminster looking to recruit new trustees, or you're a student or staff member and want to find out more, visit the Board Bank webpages or email local@kcl.ac.uk