30 June 2015
MA Film Studies student works with The Nomad Cinema
We caught up with MA Film Studies student Allie Gemmill to find out more about The Nomad Cinema, as well as Allie's plans for after she finishes her MA in September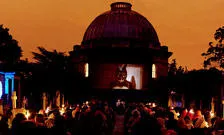 The Nomad Cinema
MA Film Studies student Allie Gemmill, is currently working with The Nomad Cinema - a roaming pop-up cinema in London that has been established for five years. As its big summer season kicks off, we caught up with Allie to find out more about about the cinema, as well as what she plans to do after she finishes her MA.

What is The Nomad Cinema?
The Nomad Cinema is a roaming pop-up cinema, now in its fifth year of operation. It runs throughout the year with film events happening in some of London's most notable and intriguing outdoor spaces, like Brompton Cemetery, Queen's Park, Coram Secret Garden, Royal Academy of Arts and Fulham Palace. It has an ethos rooted in social enterprise and 100% of its proceeds go to the Sustainability Institute, an environmental and educational charity located in South Africa. 
How did you get involved?
I knew The Nomad Cinema through its reputation among students and friends here in London. I got to exploring more of The Nomad's activities via social media so I could get better entrenched. I applied for a marketing position on a whim and the rest is history! 
What is the summer season going to be like?
This year's summer season for The Nomad is going to be thebiggest yet. We have 19 locations and over 50 screenings planned, and a few new venues have been added to the line-up, including Royal Academy of Arts and Victory Park, East Village. 
We have a really varied selection of films showing too - films like: Whiplash, Breakfast at Tiffany's, The Terminator, The Darjeeling Limited, Frances Ha, In the Mood for Love, Alien, The Graduate, Little Miss Sunshine, Birdman, Under the Skin, Grease and Moulin Rouge!. 
We've also teamed up with a ton of great street food vendors like Madame Gautier, Sipsmith Distillery and LIC (Love Iced Cocktails). It's going to be our best summer yet!
Is this the kind of work you wish to pursue after you finish your MA?
I plan to stay in London once my MA is complete and start my career. I'm working in marketing now and I also work as a freelance film critic, so I'd love to find a job that is primarily in film and that can bring my marketing and journalism backgrounds together too. Right now, the possibilities are endless and I think that's exciting!
Have you enjoyed your time in the Film Studies Department?
I have loved every moment of my time on the Film Studies MA - the Department and Faculty have been warm and welcoming. There has never been a moment where I have felt unable to approach anybody with a question or query. 
The programme itself is thorough and comprehensive and it's thanks to the great attention given by the Film Studies Department staff. I've really enjoyed being included in the discourse of film and being given the opportunity to discuss major works in a group setting. It's been a wonderful experience and one I wish I could repeat!