22 March 2019
Max Nicholls: from Dentistry to World Mountain Running Championships
Max Nicholls, King's Sport Performance Athlete
The King's student who found mountain running at age 17 and was at the World Championships two years later.
Max Nicholls, Mountain Running King's Sport Performance Athlete
Running has been a part of my life in one form or another since I was very young, my older sister started going to an athletics club and I was dragged along with her. I spent the summer months racing on the track and then cross country in the winter. Having grown up in a very flat part of the South East, I didn't get the opportunity to try mountain running until I was 17, I stumbled upon it by chance when reading an athletics magazine and thought that it sounded like fun. Two years later, I finished 6th in the World Mountain Running Championships and it has been my summer alternative to running on the track ever since.
Living and studying in London makes training for demanding hilly races quite a challenge and I have to be inventive with what I do. Paradoxically, the only place where I can run uphill for a good length of time is on a treadmill, quite a contrast to the breath-taking scenery in which my competitions take place. However, this gives me an added appreciation for the mountains when I am able to run in them as well as providing a good test of mental toughness. Another tactic is to run up and down the same hill for an hour or more at a time, much to the bemusement of any passing dog walkers. The daily training outdoors regardless of the weather gives a unique perspective and proximity to nature, you observe and feel the changing of the seasons and environment around you. This is something that I feel is lacking for a lot of people today, certainly in London, which is a real shame.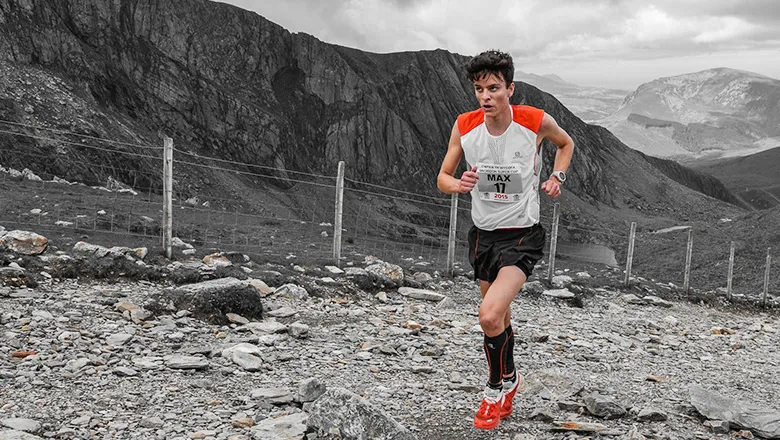 Max Nicholls, Mountain Running King's Sport Performance Athlete
The sport has taken me to plenty of interesting places, from the Alps to more obscure Eastern European countries like Macedonia and Bulgaria. My most notable racing experience would have to be running through the tunnels and slopes of an Italian marble quarry, where their world-famous Carrara stone is sourced. In 2014 I was lucky enough to make the Great Britain junior team for the World Mountain Running Championships when we hosted it in Snowdonia and had one of my best ever performances to finish 6th. Sadly, none of my family were able to come and watch since they were at a wedding, and had to discreetly slip out to catch it on a jittery live stream. I have more recently moved into the senior ranks, and have enjoyed going toe-to-toe with some big names over a longer distance, finishing 12th in the European Championships last season.
Max Nicholls, Mountain Running King's Sport Performance Athlete
Looking at the year ahead, my main target is to make one of the four spots on the Great Britain team to race the World Mountain Running Championships when they head to Patagonia in November. This summer will be my last as a student before starting work in September, so I plan to spend as much time as I can in the Alps and test myself in some longer races.
Being part of the King's Sport performance programme throughout my five years of Dental school has been an honour, and I have had some of my best achievements. Qualifying for and representing King's in the World University Cross Country champs was certainly a highlight. The strength and conditioning coaching and financial support for physiotherapy has kept me injury free throughout, a rare feat for a distance runner!
Balancing sport and academia has made me more appreciative of running as a means of escape and reflection when I am under stress. Having multiple pursuits has kept me healthy and driven. I feel that not putting too much onus on one area has prevented academic or sporting pressures from overwhelming me. The benefits of exercise are innumerable, and all of us can tap into them in one form or another. I hope that by sharing my experience I can provide some insight and encourage others to find the vacant space in their lives for some endorphin-inducing activity.