27 April 2018
Meeting climate change targets could radically reduce air pollution across UK cities by 2050
Meeting the UK's Climate Change Act commitments could cut nitrogen dioxide air pollution by 50-60 per cent and lead to improved public health and longer life expectancy, according to new analysis by researchers at King's College London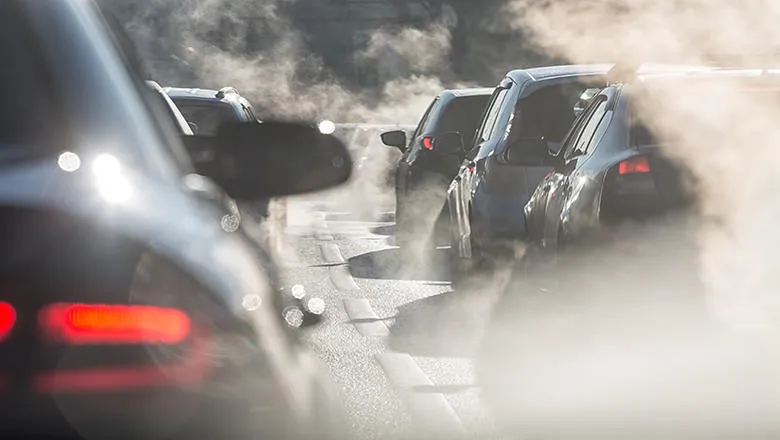 Pollution
Meeting the UK's Climate Change Act commitments could cut nitrogen dioxide air pollution by 50-60 per cent and lead to improved public health and longer life expectancy, according to new analysis by researchers at King's College London which is published today in The Lancet Planetary Health.
The Climate Change Act requires the UK to reduce greenhouse gas emissions by at least 80 per cent on 1990 levels by 2050. In London, NO2 concentrations could fall by more than 50 per cent by 2050. Significant particulate matter reductions across the country are also expected by the study.
Currently, around 29,000 premature deaths in the UK are associated with exposure to small particulate air pollution caused by wide range of sources, including road transport. Therefore, the analysis suggests that meeting the targets of the UK Climate Change Act could deliver significant health benefits.
Significant reductions could be seen in cities across the UK by 2050, including:
Cardiff and Newcastle, which could benefit from a 42 per cent reduction in small particulate air pollution (PM5) in one scenario;
Liverpool, Leeds and Manchester, which could benefit from a 57 per cent reduction in NO2 in the same scenario.
Professor Martin Williams of the Environmental Research Group at King's College London, the lead author of the study, said: 'This is the first study that compares the impacts of policy scenarios to reduce carbon emissions on health and life expectancy from changes associated with air pollution in the UK.
'Our research demonstrates that climate change mitigation policies have the potential to make dramatic improvements in public health through their parallel improvements in air quality. It is imperative that climate change and air pollution policies are considered together to fully realise the health benefits of both.'
Professor Helen Stokes-Lampard, President of the Royal College of General Practitioners (RCGP), said:  'Climate change is a risk to health in Britain. So by reducing emissions, just like stopping smoking, we can realise a raft of health benefits. This study shows that an 80% cut in greenhouse gases will dramatically reduce air pollution. So from a health perspective, it would certainly seem to make sense to press on and cut these emissions to zero. What's good for the planet is good for health.'
Professor Dame Parveen Kumar, Chair of the BMA Board of Science said: 'This study highlights that we have the means to address the air pollution crisis. This is a national health emergency in the UK, with lethal levels of air pollution in our cities breaching both WHO and EU regulations. The UK must retain and strengthen these regulations; the Climate Change Act is an example of how the UK's leadership in acting on climate change can also improve health, reducing the burden on our health services.'
Professor Jonathan Grigg of the Royal College of Paediatrics and Child Health (RCPCH) said: 'Children and young people benefit the most from improved air quality, as they are the most vulnerable to the impacts of air pollution. Tackling childhood asthma is particularly urgent given its prevalence – air pollution is associated with both reduced lung growth in childhood and severity of asthma for those with the disease. This study shows that the Climate Change Act is a powerful tool for reducing air pollution.'
For further information please contact the Public Relations department at King's College London on 0207 848 3202 or pr@kcl.ac.uk