31 January 2023
Meeting with tennis icon caps outstanding year for King's student
It's not everyday you are invited to dinner with Billie Jean King but, for King's student Jonathon Dawes, it was just one highlight from an outstanding 12 months.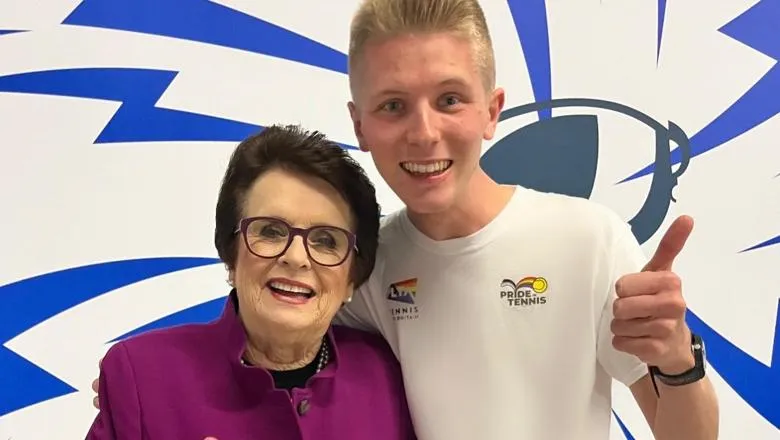 Jonathon Dawes with Billie Jean King. Picture: CONTRIBUTED
Jonathon, who studies PPE in the Department of Political Economy, was invited for a one-on-one chat with the tennis great in November to discuss how he might be able to work more closely with the Billie Jean King Leadership Initiative.
The initiative works to promote equity and inclusion in the workplace and partners with people who are making positive change.
Jonathon described it as an "unbelievable opportunity" and a remarkable way to end a year that saw him continue to build on his work championing participation and inclusion at all levels of tennis.
As well as being a committee member of the King's College London Tennis Club, Jonathon is also a member of the advisory council to the Lawn Tennis Association (LTA), which governs the game in the UK. He is the youngest ever member of the council.
Emma Raducanu joined guests from King's College London at a special session at Bromley Tennis Centre organised by Jonathon. Picture: CONTRIBUTED
His work over the past year has focussed on youth representation and ensuring the LTA works to reach people it hasn't been able to in the past. Together with council members, he is putting the finishing touches to the LTA's national strategy for the year ahead.
On top of his work with the council, Jonathon is also an internationally-accredited coach, working with youngsters at Bromley Tennis Centre, and delivers Youth Tennis Leader sessions on behalf of the LTA at tennis clubs up and down the country.
Jonathon is a global affiliate ambassador for Wilson and recently hosted a student wellbeing event at Bromley Tennis Centre which provided 50 students with a wellbeing day which included a guest appearance from grand slam champion Emma Raducanu.
He is also a newly-appointed board member of the Pride in Tennis organisation, which is working to increase participation in the LGBTQ+ community in the UK.
Despite a whirlwind 12 months, however, Jonathon says there is plenty more to come in 2023.
He said: "I'm looking forward to continuing the advocacy work I have been doing over the past year. I'd like to see more young people involved in tennis, more roles for young people in the running of the game and a greater sense of diversity too."