25 April 2019
Megan Powell: Medical student goes to Duathlon World Championships
Megan Powell, King's Sport Performance Athlete
King's medical student and Performance Athlete talks about her journey through multi-sports to the Duathlon World Championships.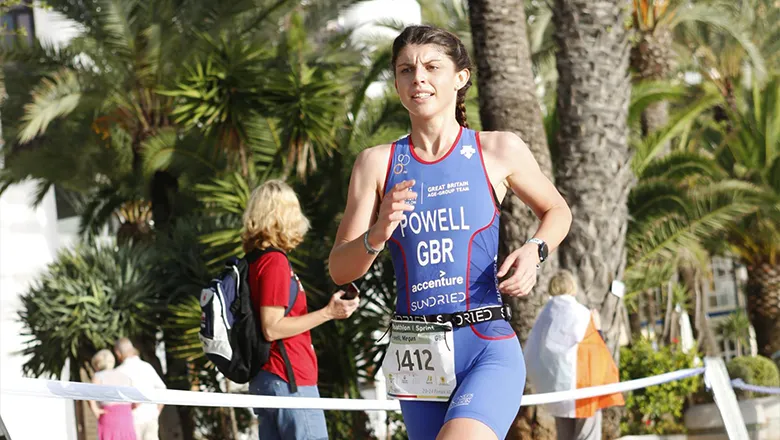 Megan Powell
My name is Megan Powell, I am a third year medical student who represents Great Britain in the wonderful sport of duathlon! You can frequently find me zooming between campus' on my bike, shedding a tear as I part with my garmin watch for clinical dress and trying to convince anyone who swims, cycles or runs to take up triathlon (patients included).
I only officially took up the sport of triathlon in my first year at King's. My mother is a very experienced and successful triathlete, duathlete, aquathlete and aquabike athlete (multisport terms I will explain later) and has represented the country for several years. Many of our family holidays have involved watching and supporting her compete around the world. I have always been inspired by her but initially didn't want to interfere and take up the sport myself.
I have always enjoyed road running but always did it alongside team sports at school and rowing and netball at my previous university. After a few rowing injuries, a few too many 5am starts and the development of a strong dislike for the politics that accompany female only team sports, I started to solely concentrate on my running. As my running improved, my mum asked me if I wanted to do the run leg of some triathlon relays with her which was my first dabble in the triathlon world. At a similar time I met my partner Hugh, who had completed a couple of Ironman triathlons and was a very keen cyclist. One thing led to another and before I knew it, I was asking for a road bike for my 21st birthday and spending a lot of time in the pool refamiliarizing myself with swimming. I joined the triathlon club at King's and loved the set-up of the club and the flexibility I had with fiting training around my studies. I really enjoyed the variety of training, the like-minded members and my first full triathlon and duathlon races at the BUCS championships.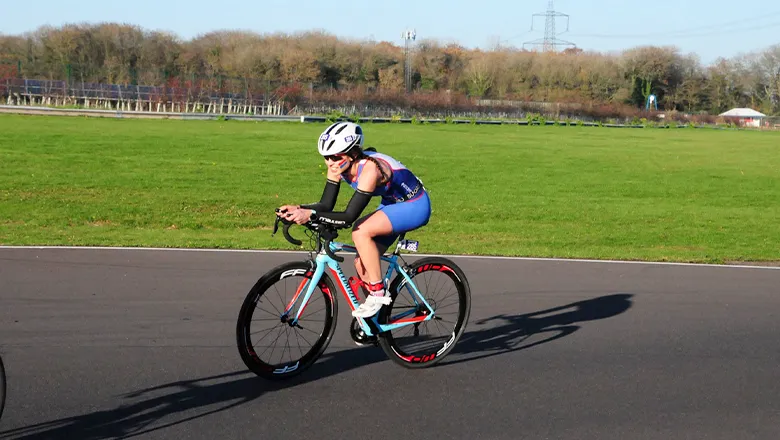 Megan Powell
I soon became somewhat addicted to the sport and became very driven to improve my performance in it. Swimming has always been my weakest and least favourite of the three sports so I did a bit of investigation and came across the world of duathlon- no swimming, no wet feet and you get one run on fresh legs- perfect! Whilst I still remained training in all three sports, I focused my performance goals towards duathlon.
I won my first qualifier for the GB Age group Duathlon team in September 2017 and my duathlon journey took off from there. I have since placed 9th overall at BUCS duathlon championships, 2nd 20-24 in the World Duathlon Championships, 3rd 20-24 in the European Duathlon Championships, 4th overall in the English Age Group Duathlon Championships and 6th overall in the British Elite Duathlon championships; my first selection and experience of elite racing.
I am off to Pontevedra, Spain for the World Championships this weekend and am hoping to go one better than last year over the 10km, 40km, 5km course and bring home a gold! I have the European Championships in Transylvania in June to look towards as well. I am doing a lot more triathlon racing this year with BUCS championships in May, British championships in June and my first shot at half-iron distance in September (for a bit of fun!).
The support from King's Sport this year has been fantastic and I am excited to see what I can bring to my races this season. The dual career performance athlete programme has helped me balance my studies and training more effectively so that I can achieve in both parts of my life. The addition of a fantastic S&C programme has resulted in new found speed on the bike, the track and in the pool!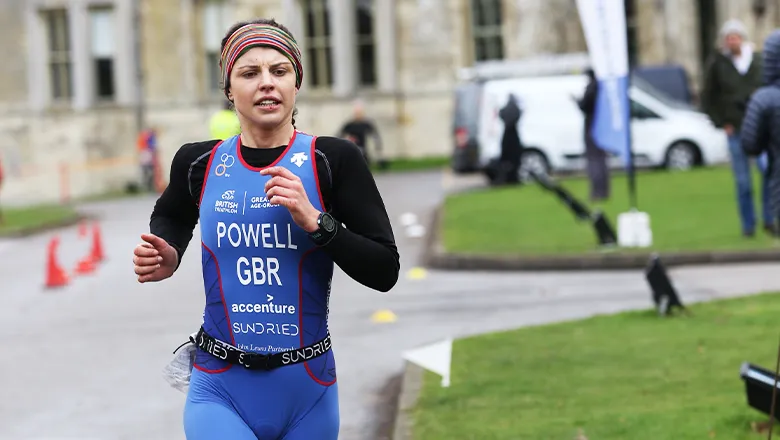 Megan Powell
Triathlon is a fantastic sport for those who want both variety in their exercise training and the capability to mould the sport around what you enjoy. Whilst the traditional swim, bike, run format is the most well known in the UK, there are many other 'multisport' events gaining popularity including: Duathlon- run, bike, run; Aquathlon- swim, run and Aquabike- swim, bike. All of these events take place over different distances from 'super sprint' to 'iron' and there are more and more beginner friendly events popping up all over the UK!
So, if you fancy a new challenge, want to get super fit and want to do a sport which includes bizarre things like learning how to take a wetsuit off as quickly as possible, doing a 'flying mount' on to your bike and 'brick sessions' to improve the jelly leg sensation in a race- sign up to a multisport race near you and join the university triathlon club or one of the many other triathlon clubs in London, you won't regret it!
In this story