31 August 2018
Mental Health Nursing student wins place on King's20 Accelerator
Matt Waugh has been awarded a place on the university's support scheme for startup ventures.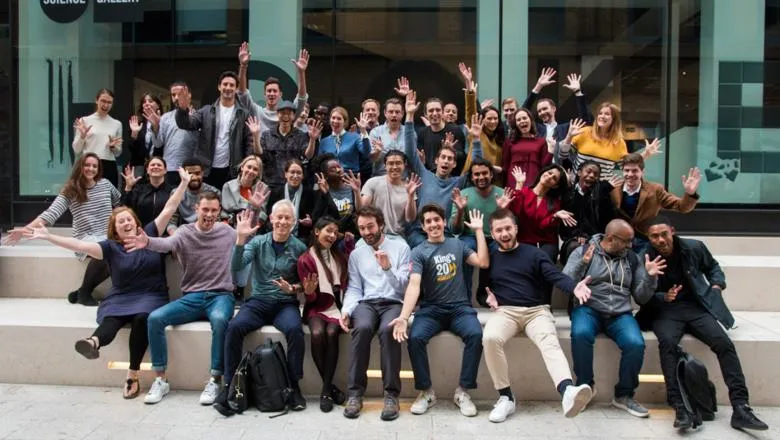 King's20 Accelerator cohort
Matt Waugh, who has just completed his first year on the PG Dip Mental Health Nursing course, was recently awarded a place on the King's20 Accelerator for his service Live More, providing daily supported exercise for hospital inpatients with severe mental illness. 
The King's20 Accelerator is a year-long accelerator programme aimed at supporting the 20 brightest ventures from King's to reach their potential. Winners receive access to leading expert mentorship, investment opportunities, coaching, office space, and the opportunity to develop the leadership skills to succeed.
Matt was inspired to set up the project following his placements on different wards at St Charles Hospital, part of Central and North West London NHS Foundation Trust. All of the wards had gyms and open spaces such as gardens, however patients weren't using them to their full potential, despite there being a wealth of evidence showing that regular physical activity is beneficial to improving mental health conditions.
This is a global issue. Increasing mental health problems amongst young people, combined with unhealthy sedentary lifestyles and self-isolation mean that those with severe mental illness die 25 years younger. Inpatients may experience obesity as a side effect from medication, as well as lack of motivation to exercise due to what are termed as the negative symptoms of their illness.
Live More aims to make providing daily supported exercise for inpatients a priority within NHS Trusts. In the longer term the project aims to create a programme that can be used in the community to ensure patients continue to exercise once they are discharged. Working alongside GPs, community nursing teams and fitness instructors, regular exercise can become an important part of patient care plans in the treatment of severe mental illness.
Currently, Matt is currently facilitating the project, providing enjoyable daily exercise to inpatients on Nile PICU Ward at St Charles Hospital. The pilot scheme for Live More will continue to run as part of the King's20 Accelerator from October 2018-19, after which Matt hopes to scale up the model onto other sites.
He entered into both his studying and the project with an entrepreneurial attitude, aiming to use existing infrastructure to its full potential, and innovating to improve life for those with mental illness.
Matt aims to deliver the Live More service full time upon graduation.
Matt said: "The aim for Live More is for regular and enjoyable physical activity to become part of how we treat severe mental illness. Daily supported exercise for longer, healthier and happier lives."