12 November 2020
MPs quizzed by students from across school in virtual session
Students from across the School of Politics and Economics were given an insight into life in parliament during a virtual Q&A session on 11 November.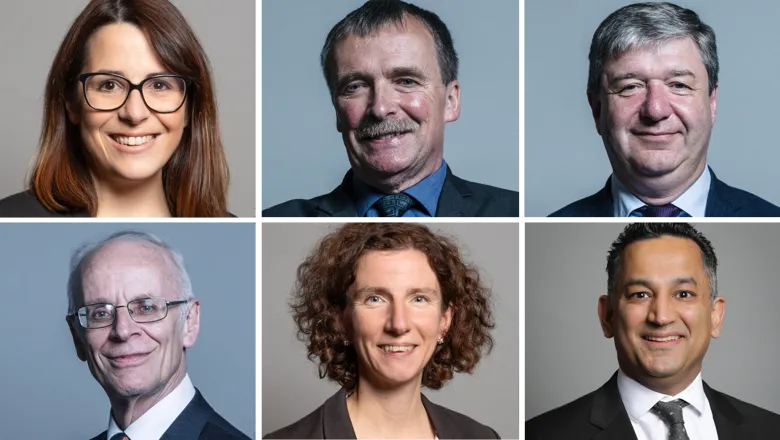 Some of the MPs involved in the Q&A session with students.
First and second year undergraduate students taking British politics modules offered in the Department of Political Economy and Department of European and International Studies were joined by MA politics and contemporary history students in meeting MPs Anneliese Dodds (Labour), Fay Jones (Conservative), Alistair Carmichael (Liberal Democrat), Gagan Mohindra (Conservative) and Alan Whitehead (Labour), as well as Lord Norton of Louth, a Conservative member of the House of Lords.
The Q&A was chaired by Professor Peter John, head of the School of Politics and Economics, with questions posed by the students.
The session was wide-ranging, lively and open, with topics discussed including: the MPs' and Lord Norton's path to parliament; the differences between the House of Commons and House of Lords; life as an MP; parliamentary conduct; the role of party whips; female representation in parliament; the government's response to COVID-19; devolution and the functioning of the 2010-15 coalition government.
Professor John said: "Once again we are grateful to the members for taking the time out to engage with our students. While special thanks go to all who took part and for making the event such as a success, particular mentions must go to King's College London alumni Fay Jones and Gagan Mohindra, as well as our former DPE colleague Anneliese Dodds.
"The students involved asked some really great, probing questions, allowing them to peak behind the curtains of power and gain valuable insight into the functioning of British politics from those working at the coalface
"In previous years the event has taken place in person at the House of Commons, but given the circumstances of the pandemic this year we opted to hold it online. Despite this, it worked excellently.
"The event is now a fixture of the SPE calendar for British politics students, and we look forward to being able to organise a similar event again next year."
In this story