06 October 2017
Music room refurbishment
Extensive refurbishment of around 40 teaching and music practice rooms has taken place in the South East Block (SEB) and South West Block (SWB) at the Strand Campus.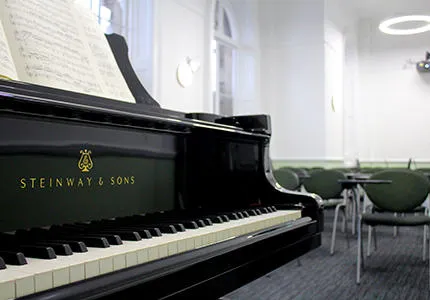 Music Room
A new recording studio is being created in the Department of Music, along with more practice and teaching spaces. The spaces have been redecorated and new furniture has been installed in the offices and some of the seminar rooms.
The practice rooms now have improved acoustics, and the larger seminar rooms have had new AV and IT equipment installed. There are also additional WiFi areas. The Department of Music has a new kitchenette, a student common room with new and better features, and a PhD room. Storage areas have been created for manuscripts and instruments.
LED lighting has been installed across the spaces, providing better lighting levels and reducing energy consumption and maintenance. The installation of LED lighting is also currently taking place across New Hunt's House and Franklin-Wilkins Building, and was recently installed in the College Chapel and corridors of the King's and Strand Buildings.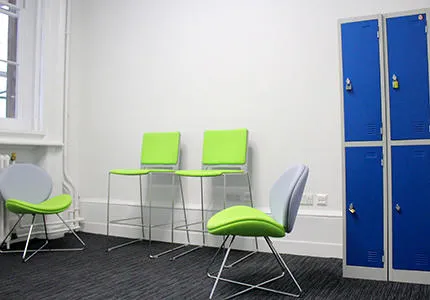 Music Room
Hab Islam, Project Manager, said: 'The practice rooms and office spaces in the Department of Music needed updating in both buildings, and this work aims to provide better teaching experiences for King's students.'
The completed work has improved the separation between practice rooms, group ensemble and orchestral practice spaces, with the main aim being to allow for adjacent practice rooms or those in close proximity to be used simultaneously without significant disturbance.
A small amount of work is still ongoing in the Department of Music to complete this project. Please refer to signage in the department for information about which rooms are not yet accessible. External works to the windows, roof and elements of the external façade are ongoing until March 2018, to ensure that the work fits around teaching in the spaces and meets compliance for listed buildings.