18 December 2019
My first 50 days at King's
By Ketki Mahabaleshwarkar (First-year, Classical Studies with English BA student)
From libraries to colour runs, and classics lectures to Hillary Clinton's visit – here's my first 50 days at King's and my experience kickstarting the Faculty's first student experience social media campaign.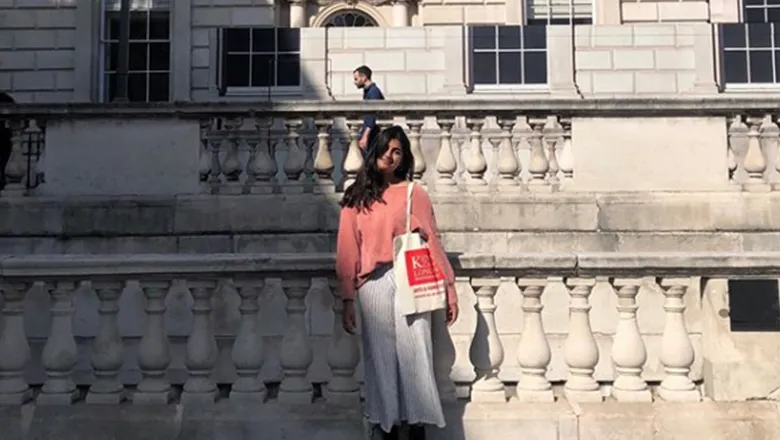 "I think I'm lost!"
–  this was probably my most used phrase when I started my journey at King's. Whether I was on campus or out in the city, I found myself trying to navigate both literally and metaphorically. Starting a degree is a huge step, at any age, but it is also one of the most exciting experiences. So, when I first saw the #MyFirst50 campaign advertised on the Faculty's Instagram page, I decided that applying would be the first 'self-push'. It was my first step into what became the most engaging, challenging, and again, exciting experience of my time at university thus far.
In the beginning, I did not have an elaborate plan about what exactly I would post, but I had the aim of showing the authentic student experience which gave insight into the King's world and the student life. I wanted to showcase the highlights of my time: the social events, the extra-curricular activities, the parties. But I also wanted to honestly convey any struggles I faced: the workload, moving into a new accommodation, and handling life in a new city.
One of the most enjoyable aspects of running the campaign was the total freedom granted to me by the Arts & Humanities communications team. I was able to, day by day, take a variety of photos and write engaging posts, whether it was ice-skating in Covent Garden or a slightly less exciting trip to study at the library. I found myself eager to explore all the King's campuses, libraries, and sights around London. London characterises King's as a dynamic, busy university, and I wanted to keep this central to the campaign by showing followers exciting places to visit. My favourite locations were Sky Garden and Hay's Galleria. In a way, I think I was discovering the university and London alongside the many new undergraduate followers of @kingsartshums, which truly summarises the essence of the campaign: exploring our first 50 days together.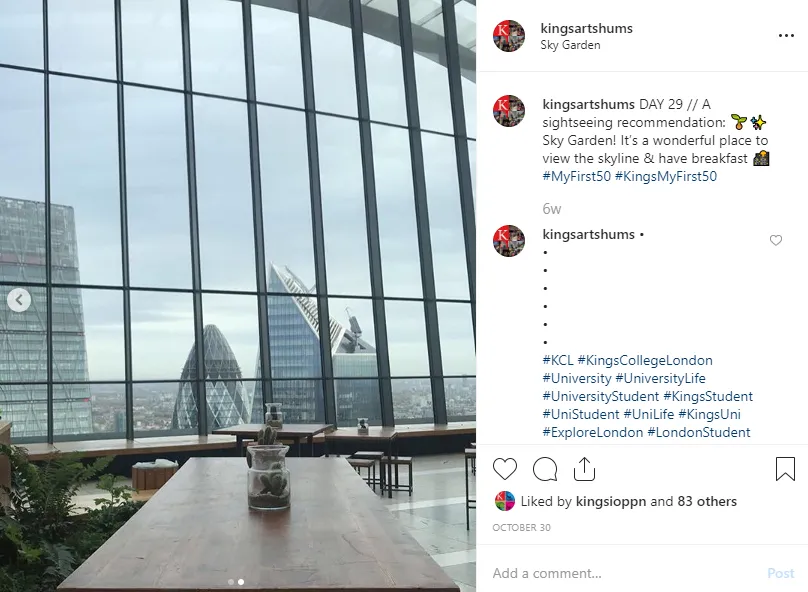 I developed skills in photography, content creation and the campaign contributed to boosting my overall confidence.

Ketki Mahabaleshwarkar
The connections I have made at King's are also the result of the opportunities from the #MyFirst50 campaign, where on Day 38, I was invited to attend World Questions with Julia Gillard in conversation with Hillary Clinton. It was an inspirational talk about what gender and social barriers; we as a society can overcome to bring positive progress. As well as the opportunities available to me, I developed skills in photography, content creation and the campaign contributed to boosting my overall confidence. Confidence that led me to apply for a job at the Strand Magazine, the universities very own arts and culture magazine, where I am now the Deputy Editor-in-Chief!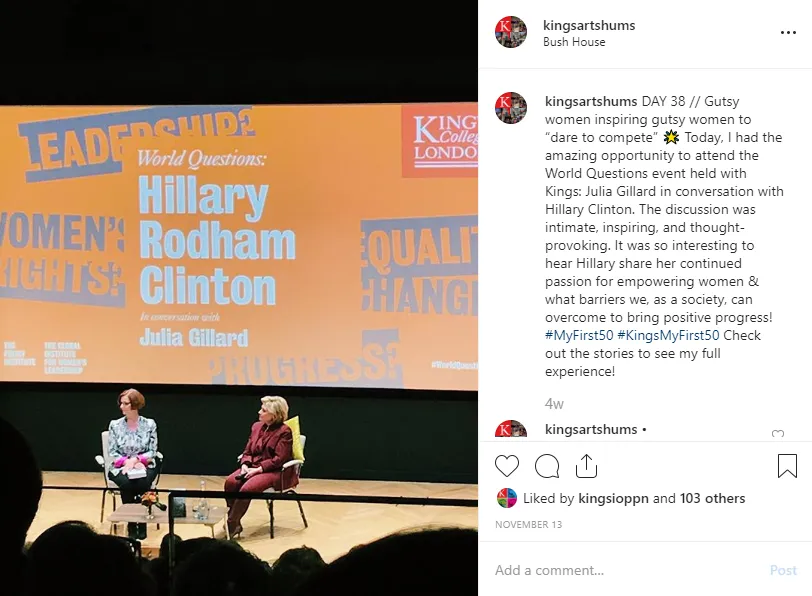 The chance to create engaging content and connect with the Arts & Humanities followers was an invaluable experience. It was rewarding to see the account's engagement increase, proving that #MyFirst50 was genuinely interesting and reaching people. The campaign was truly a collaboration, with the communications team who offered inspiration, suggestions, feedback, and support. I hope you all enjoyed the campaign as much as I have loved posting it! And for what's next, I know my adventures will continue throughout my time at university.
Follow us!
Ketki Mahabaleshwarkar is a first-year, Classical Studies with English BA student. To see her first 50 days at King's, follow the Faculty of Arts & Humanities on Instagram.