01 September 2017
New degree partnership with Chinese University of Hong Kong
The Dickson Poon School of Law partnered with Chinese University Hong Kong to deliver an innovative new law programme.
The Dickson Poon School of Law
From 2018 students will be able to gain a law degree in the UK and develop a deep understanding of Hong Kong law through a new dual LLB-JD degree programme.
A collaboration between The Dickson Poon School of Law at King's College London and the Faculty of Law at The Chinese University of Hong Kong (CUHK), the arrangement reflects a common desire to encourage international experience and better prepare graduates for work.
The programme was officially finalised with the signing of an agreement on 1 September 2017 in Hong Kong.
Executive Dean of The Dickson Poon School of Law Professor Gillian Douglas praised the collaborative nature of the new opportunity.
"We are delighted to enter into this double agreement with such a prestigious law school" she said. "The programme fits perfectly within our philosophy of global engagement and will give students the opportunity to study law in two jurisdictions, enjoy different cultural experiences, and enhance their career opportunities."
"We look forward to developing our links with CUHK in the future."
The positive sentiment was echoed by Dean of the Faculty of Law at The Chinese University of Hong Kong (CUHK) Professor Christopher Gane.
"This programme marks a milestone in the deepening collaboration between both law schools. I believe it will promote a constructive academic exchange between students from both sides and build a foundation which will help us establish further academic collaboration."
"It will also prepare students for future leadership in the legal profession or other sectors in Hong Kong, mainland China, and internationally".
About the programme
The innovative programme provides students with an opportunity to study in the UK and Hong Kong. Students will receive an LLB degree from King's and a JD from CUHK, and efficiently complete their qualification in four years instead of the usual five. For their first two years, students will study at King's, then complete their final two years at CUHK.
Upon completion students will be eligible for admission to practice law in England, Wales and Hong Kong, subject to the fulfilment of all the requirements set by the respective legal professions. Importantly students will also gain invaluable exposure to two legal systems, enabling critical understanding and the chance for a truly widened intellectual horizon.
Further details will be available in October 2017.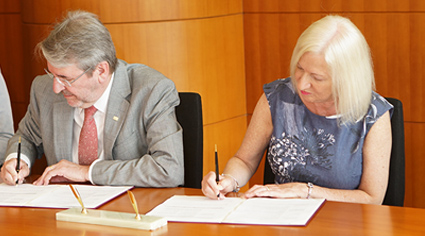 Professor Gane and Professor. Douglas signing the agreement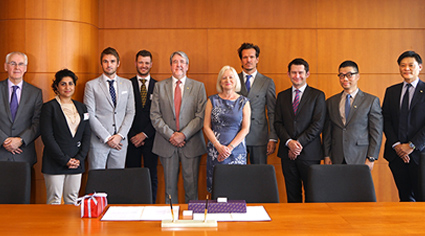 Senior executives at the signing of the new partnership between CUHK and The Dickson Poon School of Law