14 April 2021
New design exhibition features work of academic
The research of a King's academic formed a central part of a new exhibition at a museum in Germany.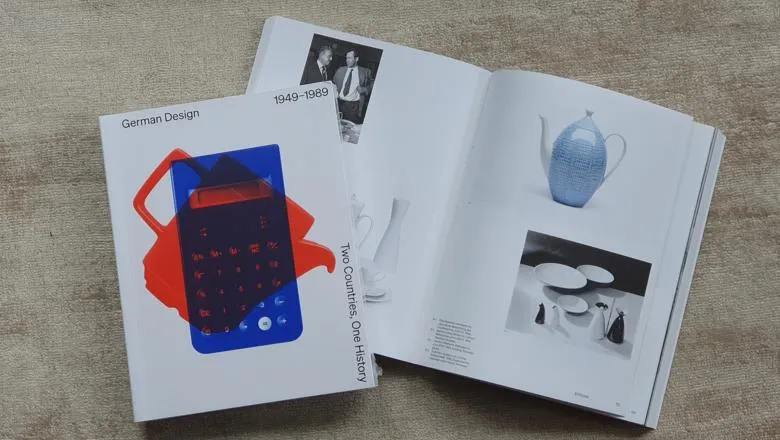 The catalogue which accompanies the exhibition. Picture: KATRIN SCHREITER
Dr Katrin Schreiter, a lecturer in German and European studies, contributed her work to a publication that accompanied an exhibition at the Vitra Design Museum in Weil am Rhein.
The exhibition, the German Design 1949-1989: Two Countries, One History, runs until September 5 and offers a comparative selection of design from the former East and West Germany, exploring ideological and aesthetic differences between the two nations. It will go on to show at the Kunstgewerbemuseum, Staatliche Kunstsammlungen Dresden in October 2021 and is planned to travel to other destinations around the globe for the next five years.
Exhibits range from pieces of furniture and lamps to graphic, industrial, and interior design to fashions, textiles, and personal ornaments. The accompanying catalogue, to which Dr Schreiter contributed, illustrates the many facets of German design history in the post-war period.
Dr Schreiter said: "It's a unique exhibition, the first to offer a detailed look at designs from both sides of the inner-German border. I was delighted to be asked to contribute alongside so many other experts in design history."
Dr Schreiter, from the Department of European and International Studies, is the author of Designing One Nation: The Politics of Economic Culture and Trade in Divided Germany, published in 2020, which examines the material culture of increasing economic contacts in divided Germany from the 1940s until the 1990s.
The book uses industrial design, epitomised by the furniture industry, to show how a network of politicians, entrepreneurs, and cultural brokers attempted to nationally re-inscribe their production cultures, define a post-war German identity, and regain economic stability and political influence in post-war Europe.
You can find out more about the exhibition at the Vitra Design Museum here.
In this story