05 March 2021
New device to provide relief for menopausal women from hot flashes wins entrepreneurial award
A revolutionary device for menopausal women suffering hot flashes has been announced as a winner of the Idea Factory 2021.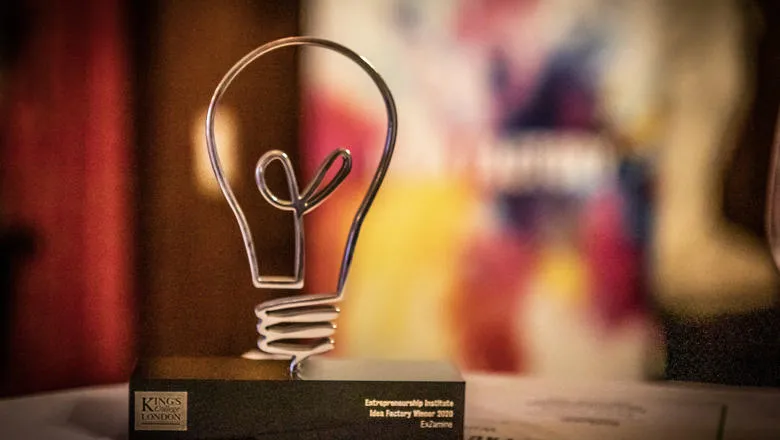 A revolutionary device for menopausal women suffering hot flashes, which works by reacting to the onset of a hot flash and leverages a natural physiological response to bring relief, has been announced as a winner of the Idea Factory 2021 - a competition run by King's College London's Entrepreneurship Institute.
CoolZEN provides a solution to a market where there are very few non-pharmaceutical solutions for relief from hot flashes, the symptoms of which can cause huge disruption to the lives of women going through the menopause. CoolZEN will now receive a package of support from the Entrepreneurship Institute to enable the founders to grow and nurture their business.
The winners of the Idea Factory have been recognised for finding practical solutions to everyday problems and the competition aims to find the best ideas from budding entrepreneurs across the university. The founders of this year's winning ventures are all women and their businesses tackle real-world problems from sustainability, health care and social inequality through innovation and disruptive thinking. The other winners include:
UniMate is a grade calculator app for Uni students that allows users to track their university grades, calculate their weighted average and predict what they need to strive for in order to achieve their dream degree classification by simply inputting their grades into the app.


SnapSense is a wound monitoring software that making monitoring diabetic wounds as easy as taking a selfie. Around 25% of diabetic patients develop foot ulcers, responsible for 85% of amputations, causing significant distress + morbidity. The app guides patients to snap pictures of their wound and answer a symptoms-based questionnaire that clinicians can easily review, reducing appointments, encouraging earlier recognition of wounds, and saving the patients and hospitals time and money.
Prize money of up to £3,000 was awarded to support each of the three winning ideas and all ten finalists will receive ongoing support from King's Entrepreneurship Institute. The winners were picked by an expert panel of judges.
Julie Devonshire OBE, Director of the Entrepreneurship Institute said: "As we approach international women's day, I'm delighted that we have awarded ventures founded by women. We know through our own research that only 2% of people see women as entrepreneurs and 45% of people believe entrepreneurs are more likely to be men. This is damaging women's entrepreneurial potential and preventing women from recognising entrepreneurial qualities in themselves at a time when these skills are needed the most. The Idea Factory shows that anyone can be entrepreneurial and it just starts with an idea".
For the first time this year, in addition to the expert panel of judges, the EI opened the vote so its community could choose a winner for the inaugural People's Choice award. The winner will receive £2000 in funding to make their idea a reality, 12 months of mentoring with our Head of Entrepreneurial Skills and experts-in-residence as well as a potential fast-track to a King's20 Accelerator interview. The winner is:
HydroGrow an Urban sustainable hydroponics product made from a 100% recycled HDPE plastic, which allows you to grow fruits, vegetables, herbs and flowers in your home. The system uses hydroponics technology, a method of growing plants without soil which uses 90% less water and has a harvesting yield 4x bigger than traditional agricultural methods.
In this story