08 October 2021
New ethics course designed by King's College London for International Institute exceeds enrolment expectations
Defence Studies staff create new online course for the Peace Operations Training Institute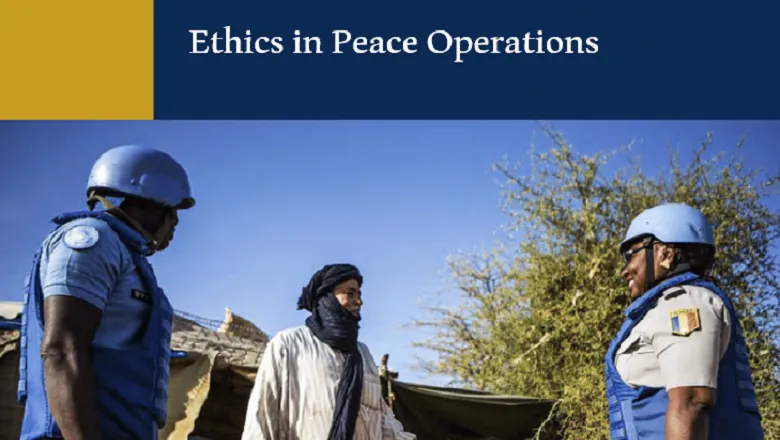 The Ethics in Peace Operations course was developed by the King's Centre for Military Ethics to add to the extensive curriculum offered by the Peace Operations Training Institute. It was designed and implemented by Foreign Policy Scholar and Practitioner and Defence Studies Department PhD Student, Whitney Grespin with support from Professor David Whetham, Director of the King's Centre for Military Ethics.
The fully online, multi-lingual course has attracted over 3,800 students studying in English, French and Spanish, utilising the UN core values of integrity, professionalism and respect for diversity as the basis to teach students the basic ethical aspects of peace operations. Using a collection of case studies and practical examples, the content covers the Code of Conduct; cultural awareness; gender and peace operations; sexual exploitation and abuse and human trafficking; child protection; human rights in peace operations; HIV/AIDS Awareness; UN guidelines and procedures on discipline for uniformed peace operations forces, recent reforms within the UN System and an increased focus on the gender perspective in peace operations.
The Peace Operations Training Institute provides globally accessible self-paced, online, on-demand courses on peace support, humanitarian relief, and security operations, written by global, expert practitioners at little to no cost to the students to bring essential, practical knowledge to military personnel, police, and civilians working towards peace worldwide.

Whitney Grespin is a student in the Defence Studies Department PhD research programme. She holds a BA from Duquesne University, a Master's in Public and International Affairs from the University of Pittsburgh, a professional certificate in Project Management from Georgetown University, and secondary education social studies teaching licensure from Pennsylvania State University. She is a Term Member at the Council on Foreign Relations.Miss Grespin is an experienced programme management professional with specialised experience performing oversight of security sector reform, capacity building and educational projects in developing/complex environments on five continents. After completing a Graduate Teaching Assistantship with the Defence Studies Department was awarded a Teaching Fellowship concurrently with her research programme of study.
David Whetham is Professor of Ethics and the Military Profession in the Defence Studies Department of King's College London. He is the Director of the King's Centre for Military Ethics and delivers or coordinates the military ethics component of courses for between two and three thousand British and international officers a year at the UK's Joint Services Command and Staff College. Before joining King's as a permanent member fo staff in 2003, David worked as a BBC researcher and with the OSCE in Kosovo, supporting the 2001 and 2002 elections.
In this story