27 April 2018
New Executive Dean of Arts & Humanities
Professor Marion Thain has been appointed as the new Executive Dean for the Faculty of Arts & Humanities at King's, replacing Professor Russell Goulbourne who is stepping down from the position in July 2018, after 5 years of service.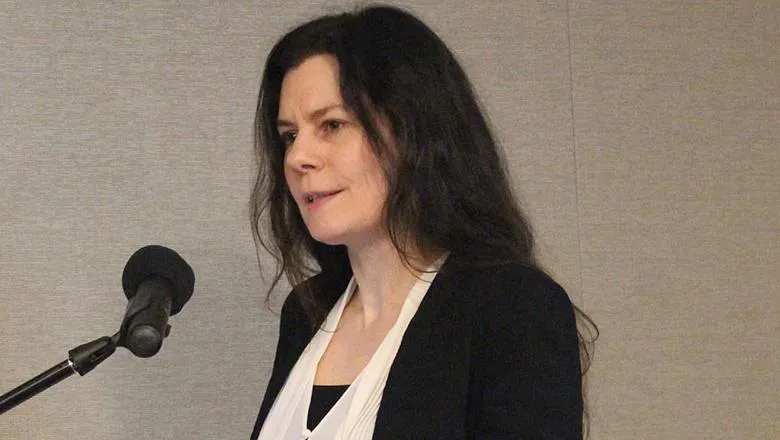 Marion thain
Currently a professor in New York University's school of the interdisciplinary global liberal arts (Liberal Studies), and Director of Digital Humanities for NYU, Professor Thain has an interest in three research areas: late-nineteenth-century literature and culture; poetry and poetics (Romanticism to the present) and the relationship between technology and the arts. She began her career as a Junior Research Fellow at Cambridge University, and then worked in English departments at Russell Group universities before leaving for the US six years ago. She has a celebrated record of research and education in literature and the interdisciplinary arts, with distinguished publications in these fields.
Professor Evelyn Welch, Vice Principal (Arts & Sciences) said of the appointment, 'I am delighted that we will be welcoming Marion Thain to King's. She is a renowned scholar who understands the crucial importance of interdisciplinarity. The Faculty of Arts and Humanities is one of the best in the world, with fantastic links to internationally recognised cultural institutions such as the British Museum, Globe Theatre and National Portrait Gallery. I look forward to working with Marion Thain to ensure the Faculty's continued success.'
The Faculty of Arts and Humanities has 450 academic and professional services staff. 99% of its research outputs were judged as being of outstanding or very significant quality and many departments were rated in the top 10 nationally for both power and quality in the REF 2014. This was achieved at the same time as the Faculty achieving some of the highest student satisfaction results at King's.
As one of the most diverse faculties in terms of subject range in the University of London, Arts & Humanities students are able to pursue a number of undergraduate degrees, postgraduate masters and research opportunities in all aspects of human culture and history, from ancient languages and history to contemporary film studies.
King's ambition for the Faculty is to be distinctive and bold, sustaining a reputation as one of the world's leading Arts and Humanities faculties, delivering a superb education to almost 5,000 students alongside significant research achievements. King's aim is to be recognised for having the most outward-looking, flexible and personalised Arts & Humanities programmes in the UK.
Professor Thain is due to take up the appointment as Executive Dean in Autumn 2018.