10 November 2023
New handbook on best practices in strategic trade control at seaports
Helping ensure the integrity of export controls at publicly and privately-owned seaports.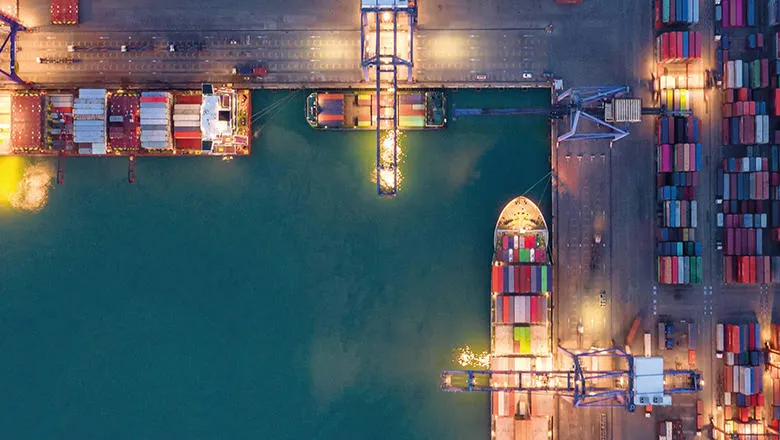 In the second half of 2022, King's College London conducted a series of training workshops on the implementation and enforcement of strategic trade controls (STCs) at seaports. King's has now summarised that training programme into a new handbook of best practices. It is designed primarily for use by government agencies responsible for enforcing STCs at ports, for example customs, border protection and policing. It will also support the work of agencies responsible for port management and governance, export licensing, trade regulation, maritime domain awareness, and industry outreach.
Strategic Trade Controls are designed to prevent the transnational acquisition of strategic weapons and goods needed to develop or deliver them. Diligent processes and vigilant practices at ports are vital to prevent the illicit transfers of strategic items, making ports a key component of international security.
The growth in private and foreign control and ownership of ports worldwide has the potential to impact countries' abilities to implement STCs. As well as defining best practices at ports generally, this handbook uniquely identifies specific measures to ensure effective STC implementation at private ports. Every country needs robust processes for licensing, screening of documentation, maritime domain awareness, searching of vessels, and inspection of cargoes. Ensuring the integrity of these processes at privately operated ports relies on constructive collaboration between the host government and the port operator.
A particularly strong feature of this handbook is the large number of international experts who contributed content and expertise. Significant contributions came from consultants on STCs and sanctions in UK and Dutch Customs, and a senior advisor in the UK's Export Control Joint Unit. Excellent contributions also came from the Manager of the Port of London, the UN Panel of Experts, and a research group at Ghent University. Based on leading voices from industry, law enforcement, international security and academia, this handbook will help governments meet the complex challenges of strategic trade control.
Download the handbook
This handbook outlines best practices for enforcing strategic trade controls at seaports.
In this story