21 November 2017
New MA Provides Escape from the Whirlwind
The new King's MA Education launches in September 2018. Its blend of flexible study, critical rigour and practical and professional benefit make it perfect for teachers and other educational professionals.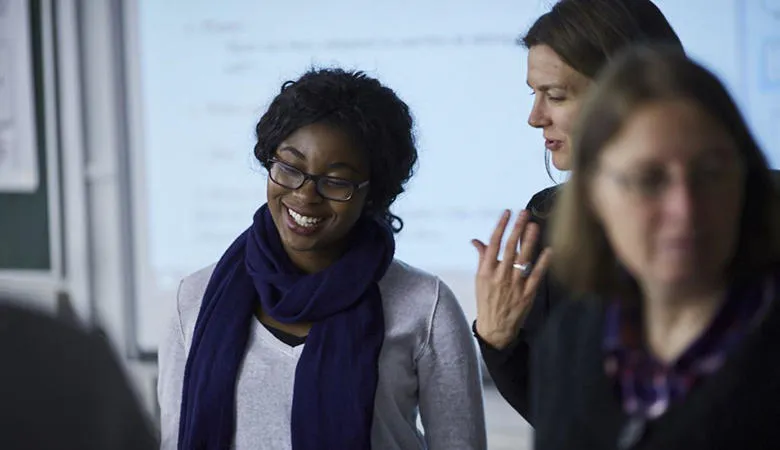 Student talking to a lecturer
The whirlwind of working life rarely provides opportunities to step back and consider wider currents that shape day-to-day experience and practice. Many of us know that we would benefit from this and crave the opportunity to do so. Finding space is another matter.
That's why King's College London has developed the MA Education, starting in September 2018, for teachers and other professionals to study at evenings and weekends around their job.
 "I had reached a point in my teaching career where I wanted a new challenge and I wanted to learn and explore more about my subject and my profession" says Beth, who studied MA Science Education at King's. 
"I felt as though I was learning from those who had great passion for their subject and who were forward thinking and keen to share their knowledge and experience, which I found to be infectious and made me to want to learn."
The MA Education is a new offer taking the best from current education-related postgraduate courses available at the King's College London. It enables students to pursue their own particular interests in education within and beyond curriculum specialisms, including English, Science, Computing and Modern Languages. The extensive range of optional modules enable students to specialise in a particular area of educational research.
Benefiting from education researchers (2nd in the UK) and teacher educators (rated Outstanding by Ofsted) at the School of Education, Communication & Society, participants will develop critical understanding of education policies and practices, drawing on UK and international contexts and perspectives.
For those who work in education, the course will enable students to critically reflect on their own educational roles and carry out independent research in their workplaces. It's also not just for teachers. Kate took time out from a career in management and leadership roles in government and NGOs to study at King's:
"I was re-inspired about education by the programme at King's. The course introduced me to wide-ranging perspectives and debates yet simultaneously allowed me to tailor my learning to the areas that I was most curious about. 
"I found the year to be intellectually challenging and rewarding."  
Both intellectually rigorous and of considerable direct professional relevance, the King's MA Education will enable students take both a step back and a step forward. 
Read more about the School of Education, Communication & Society.