20 June 2019
New research on the intimidation and harassment of MPs featured in inaugural conference
The CEO of the Jo Cox Foundation and former minister Lord Blunkett joined academics from King's speaking at the Centre for British Politics and Government's Summer Conference.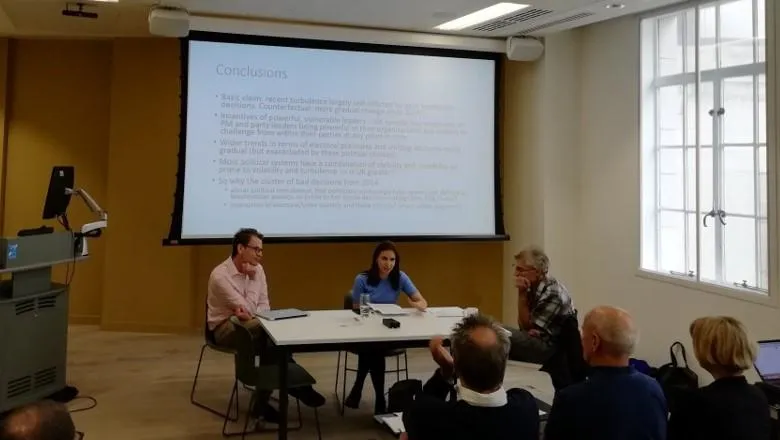 Centre for British Politics and Government Conference
Intimidation and harassment of MPs is on the rise, delegates heard at the inaugural Summer Conference of the Centre for British Politics and Government.
Dr Elizabeth Morrow and Dr Sofia Collignon from Royal Holloway presented early findings from their research investigating the intimidation and harassment of UK Parliamentarians. Their presentation included their plans to complete a comparative study of the intimidation and harassment of UK and Australian parliamentarians.  Dr Collignon had gathered UK data via the Representative Audit of Britain, a survey of all candidates who stood in the 2017 General Election.  She found that 32 per cent of candidates experienced some form of harassment, with the most frequent form of harassment taking place through social media.  Dr Collignon also found that the majority of MPs have experienced harassment and intimidation while in office, with 50 per cent of those affirming to have felt some fear as a result.  
Responding to the findings, Catharine Anderson, CEO Of the Jo Cox Foundation highlighted how there is one female MP who receives over 1,000 sexually abusive Tweets per week.
The conference, held at King's on Thursday 13th June, also heard from Professor Peter John from the Department of Political Economy about why British politics has become so turbulent in recent years.  Tamara Cohen, Political Correspondent at Sky News, responded and gave delegates an insight into her life as a journalist covering British politics.
Staff, students and the public attending the conference at Bush House, also heard from Politics lecturer Dr Rod Dacombe, who spoke about citizen participation in democratic decision-making after Brexit. He shared his views on the current crisis in British democracy, which was responded to by Lord Blunkett, former Home Secretary.
Senior lecturer in political economy Dr Christel Koop presented preliminary findings from a research project she is conducting in collaboration with Professor Martin Lodge from the London School of Economics on the politicisation of regulatory bodies within the United Kingdom. This was responded to by Vicky Pryce, currently the Chief Economic Adviser at the Centre for Economics and Business Research.
Dr Andrew Blick, Director of the Centre, said: "This was the Centre's first Summer conference. We were delighted that our organisers put together such an excellent programme and that so many people attended. It gave the perfect opportunity to showcase the first-rate academic staff we have working on different aspects of British politics in the Department of Political Economy and School of Politics and Economics. This is a theme that could not be more relevant in the contemporary environment."