16 March 2022
New term for Executive Dean of King's Business School
Professor Stephen Bach accepts new term as Executive Dean of King's Business School
We are delighted to announce that Professor Stephen Bach, has accepted a new term as Executive Dean of King's Business School (KBS).
Professor Bach was appointed inaugural Dean of King's Business School in 2017 when it officially became the university's ninth faculty. Under Professor Bach's leadership KBS has quickly matured to provide distinctive education and research across a full spectrum of disciplines in management, entrepreneurship, finance and economics. This has culminated in achieving accreditation from the Association to Advance Collegiate Schools of Business (AACSB) in February of this year. An accreditation that recognises institutions that have demonstrated a focus on excellence in all areas including teaching, research, external partnerships, curriculum development, and student learning.
KBS has grown to become one of the largest providers of undergraduate management teaching in London, as well as having a thriving postgraduate community. The Business School has become the location for the Economic Statistics Centre of Excellence, has a leading role in the Productivity Institute and is advancing research on sustainable business. Under Professor Bach's continued leadership, KBS will build on its firm foundation to foster the next generation of business leaders and develop its distinctive brand dedicated to addressing business and societal challenges in a rapidly changing world.
In this story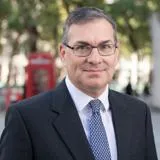 Executive Dean, King's Business School and King's College London Interim Vice President (People & Talent)