15 November 2018
NMS at Silicon Valley Comes to the UK
Executive Dean of the Faculty of Natural & Mathematical Sciences Professor Michael Luck and Electronic Engineering with Management student Fatima Benkhaled recently took part in Silicon Valley Comes to the UK, an event designed to inspire the entrepreneurs of the future.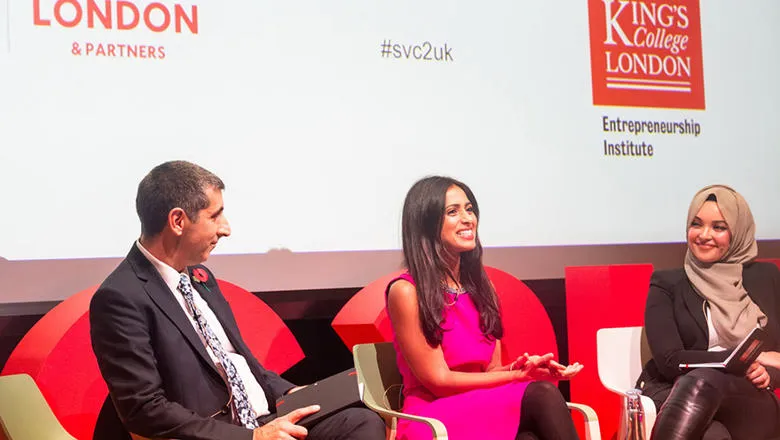 Professor Michael Luck, Ruzwana Bashir and Fatima Benkhaled
At an event run in partnership between the Entrepreneurship Institute, and Silicon Valley Comes to the UK (SVC2UK), big names in business and technology discussed challenges in growing businesses, 'fear' in adopting AI, and entrepreneurial opportunities presented by AI and how they could serve societies rather than threaten them.
Speakers included LinkedIn Co-founder, Reid Hoffman CBE, former US government Chief Technology Officer, Megan Smith, entrepreneur and Angel investor Sherry Coutu CBE, Digital Education expert Professor Sir Tim O'Shea, and UK student turned million-dollar business owner, Ruzwana Bashir, who gave advice to those starting out in business.
Professor Michael Luck and Fatima Benkhaled helped facilitate the discussion along with Oli Barrett MBE, Co-founder of Startup Britain.
Many of the students who attended the event are also based in the Faculty of Natural & Mathematical Sciences, and brought with them their own entrepreneurial ideas.
Sakeen, who studies Computer Science, said: 'As a final year computer science student who would like to start his own venture in the near future, the session highlighted to me that the ethical issues of AI are something that I need to consider more as I was not putting much emphasis on this before.
'It was very encouraging to learn more about Ruzwana's journey, as we have a similar background. It's made me consider looking into Silicon Valley more for starting my entrepreneurial journey, as I thought it was inaccessible for people based in the UK.'
Read about Fatima's recent appearance at London Tech Week 2018
In this story