10 October 2018
On Joining ECS: a "vibrant community of scholars and students"
Dr Ayo Mansaray and Dr Diego Santori: An Interview on Joining The School of Education, Communication and Society.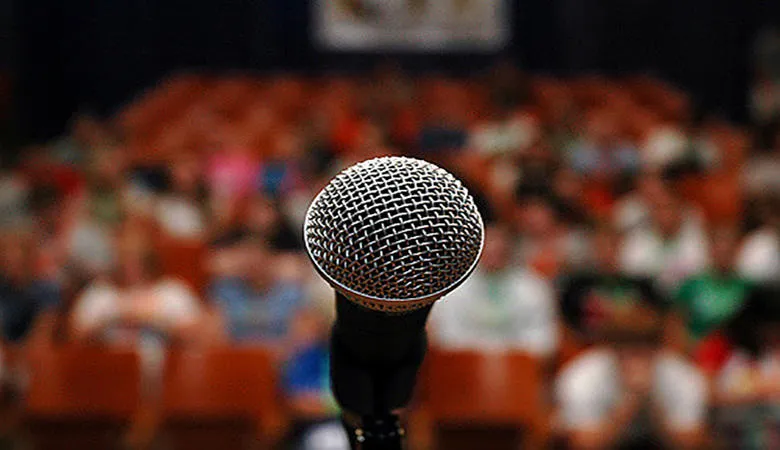 Microphone in front of an audience
Dr Ayo Mansaray, Lecturer in Sociology of Education and Policy and MA Education Programme Director, and Dr Diego Santori, Senior Lecturer in Education and Society, are two of the latest academic additions to the School of Education, Communication and Society. Ayo and Diego joined King's in August 2018, eager to hit the ground running with their teaching and research ahead of the new academic year.
What motivated you to join King's, and specifically the School of Education, Communication and Society?
Ayo Mansaray: The reputation of King's and the work of academics in ECS is well-known in the field, particularly their sociological approach to the study of educational institutions and processes. The location of King's being in a vibrant part of central London is a bonus.
Diego Santori: For me, the main reason for joining King's was its strong focus on and commitment to research, and the leading academics in the field of education policy-sociology who are or have been working here at KCL. Clearly the international reputation is another element that interested me about King's, and the opportunity to work with students from all over the world. I find the ECS a vibrant community of scholars and students, with a strong identity based on principles of equality and social justice.
What is your academic background in education?
Ayo Mansaray: I have an eclectic academic background, encompassing philosophy and the sociology of education.  I feel that School of Education, Communication and Society will be a good fit in that respect.
Diego Santori: I am originally from Argentina, where I did my undergraduate and graduate studies. I always believed in education as a resource for personal and social transformation, perhaps a legacy from my grandparents who, as peasants who migrated from Italy after WWII, believed in education as a tool for social mobility. I came to the UK to do my PhD at the UCL Institute of Education (IoE).
Who inspires you?
Diego Santori: I suppose that from a broader philosophical perspective, I have found the work of Michel Foucault and Judith Butler both challenging and inspiring, in that their writing would usually make me feel uncomfortable at times, and somehow nudge me to constantly question myself. Foucault's works such as The Order of Things and The Birth of Biopolitics made me questions my assumptions and opened new questions, as well as Butler's work Bodies that Matter and The Psychic Life of Power.
In the field of education policy-sociology, Professor Stephen Ball has been a big influence, both as my PhD supervisor and as we continue to work together. I was always impressed by his ability to identify issues that initially could seem rather peripheral or unimportant and then continue to explore them, revealing some fascinating developments through incessant inquiry.
Ayo Mansaray: My four-year-old son (at times equally a source of exasperation).
What do you focus on in your research and why do you pursue this?
Diego Santori: My research is in the field of policy-sociology, with a particular interest in how policy structures and assumptions shape or bound. On the one hand, I am interested in the role of high-stakes testing and data in contemporary education systems, and the ways in which they produce new cultural forms and practices. On the other, together with Professor Stephen Ball and Carolina Junemann, I have worked on a Leverhulme Trust-funded research on the role of philanthropy in education policy, policy networks and governance focusing on the development of chains of low-fee private schools for the poor in sub-Saharan Africa.
Ayo Mansaray: A long-standing research interest of mine has been urban schooling and education. Urban education often manifests and highlights the extreme inequalities in society. Some of that work has been concerned with exploring the impact of educational policies and interventions on urban schools, teachers and learners. I have also become increasingly interested in comparative studies of educational issues, in particular the education systems of Finland, Germany and the USA.  
Diego, you're going to be involved with the new BA Social Sciences, which will begin in the 2019-20 academic year. What are you most excited for?
Diego Santori: I am really excited about our new BA Social Sciences mainly because this is the kind of BA I would have loved to do when I was an undergraduate student! Just by having a look at the wide range of modules available you can see a strong articulation of social theory and recent developments, with a genuine international approach from leading scholars. It will offer a solid platform for students who are willing to understand the complexities of contemporary social structures and practices and have an impact on them.