28 February 2018
Passing of Professor David Caron
The Dickson Poon School of Law is profoundly saddened to report the passing of its former Executive Dean Professor David D Caron, who died on Tuesday 20 February following a short illness.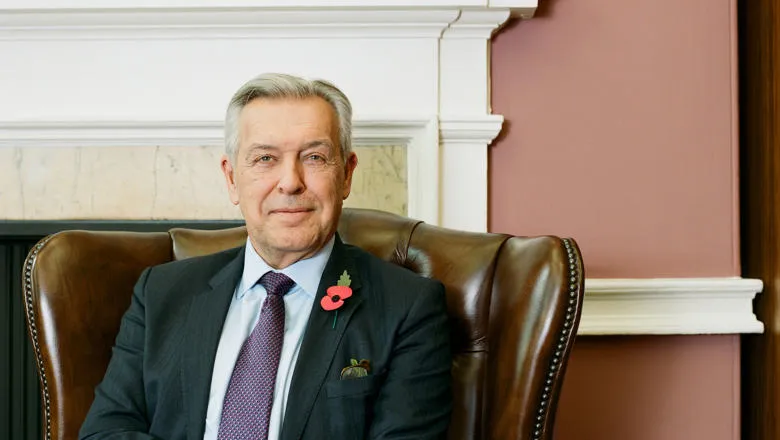 Professor David Caron
The Dickson Poon School of Law is profoundly saddened to report the passing of its former Executive Dean Professor David D Caron, who died on Tuesday 20 February following a short illness.
Professor Caron joined King's as the Executive Dean of the Law School in 2013 following a donation by Sir Dickson Poon CBE, as part of King's transformation project to build the School's reputation as one of the top law schools in the world and to set new standards in legal education and research. An exceptional leader, he pioneered the School's transnational profile and oversaw the inauguration of the Transnational Law Institute and the Centre for Politics, Philosophy & Law.
In 2015 Professor Caron was appointed as Judge ad hoc at the International Court of Justice for the 'Alleged Violations of Sovereign Rights and Maritime Spaces in the Caribbean Sea Case between Nicaragua and Colombia'. The income derived from the work was pledged by Professor Caron and his family to King's in the form of a donation to The Dickson Poon School of Law's Student Hardship Fund.
In 2016, Professor Caron was appointed to the Iran-United States Claims Tribunal (IUSCT) and stepped down as Executive Dean but remained an integral member of The Dickson Poon School of Law. When stepping down as Executive Dean, Professor Caron said:
'My time at King's and with the law community has been inspirational and up-lifting. There are virtually no other appointments that would draw me away from my present assignment. The Law School's continued success is a certainty given its staff, students and committed alumni. I look forward to remaining associated with this great School.'
Professor Caron's scholarship addressed international law and organisation, with the corpus of his work covering public and private international dispute resolution, international courts and tribunals, the United Nations, the law of the sea, international environmental law, climate change and general theory of international law.
Prior to joining King's, Professor Caron was C. William Maxeiner Distinguished Professor of Law at the University of California, Berkeley. He served as a member of the World Economic Forum's Global Agenda Council on the Rule of Law, was a member of the Executive Council of the American Bar Association Section on International law, a member of the US Department of State Advisory Committee on Public International Law, Co-Director of the Law of the Sea Institute, Co-Director of Berkeley's Miller Institute on Global Challenges and the Law, and a member of the Board of Editors of the American Journal of International Law.
Professor Caron attended the United States Coast Guard Academy and graduated with High Honors with emphases in Physics and Political Science and as Commander of the Corp of Cadets in 1974. He served first in the Arctic as the Navigator and Salvage Diving Officer aboard the US Coast Guard Cutter Polar Star and second in San Francisco as the Assistant Chief of the Marine Environmental Protection Service for California. In 1979 Professor Caron was a Fulbright Scholar to the United Kingdom attending the University of Wales and receiving a Master's degree in Marine Law and Policy. He studied law at the University of California, Berkeley graduating Order of the Coif, as Editor in Chief of Ecology Law Quarterly and as co-recipient of the Thelen Marrin Prize for outstanding student scholarship in 1983.
Following graduation from Berkeley, Professor Caron served as a legal assistant to Judges Richard M Mosk and Charles N Brower at the Iran-United States Claims Tribunal. While there he began his associations with the Hague Academy of International Law where he was awarded its Diploma and with the University of Leiden where he received his Doctorate in Law. He then served as a Senior Research Fellow with the Max Planck Institute for Comparative Public and International Law in Heidelberg, followed by a period of practice at the San Francisco firm of Pillsbury Madison & Sutro before joining the law faculty at Berkeley in 1987.
Executive Dean of The Dickson Poon School of Law Professor Gillian Douglas said: 'Professor David Caron was an inspirational Dean and a most valued colleague. He combined deep intellect and a formidable legal brain with charm, kindliness and charisma. He will be sorely missed and our hearts go out to his family and friends for their tragic loss.'
David's family have asked for privacy at this time and students, colleagues and friends wishing to express their condolences are able to do so by emailing the Law School at law-deansoffice@kcl.ac.uk. They will then be forwarded to David's family. Alternatively, memories may be sent to an online hub via email to stories@davidcaron.life. A book of condolences will be available in the Executive Dean's office from Monday 26 February. Information about commemorative services will be available in due course.