09 June 2022
Pears Maudsley Centre highly commended for Design in Mental Health award
The Pears Maudsley Centre was highly commended in the 'Outside Spaces' category at the Design in Mental Health Awards ceremony last night.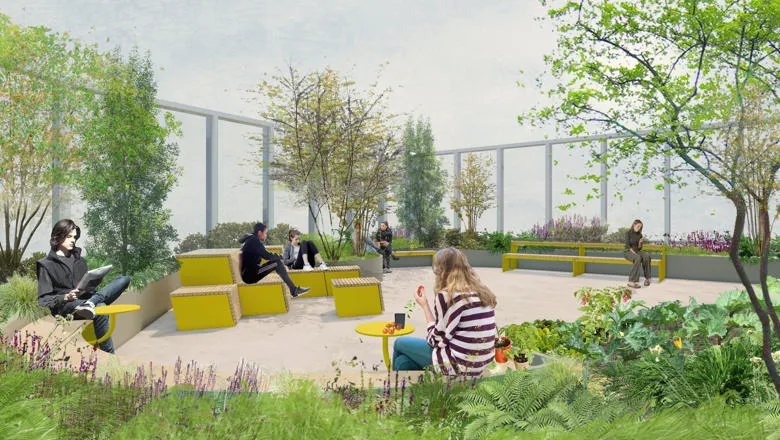 The £65 million Pears Maudsley Centre for Children and Young People has been highly commended for the 'Outside Spaces' category at this year's Design in Mental Health awards, announced last night (8 June 2022) at the awards ceremony in Coventry Arena. 
The centre was designed by young service users and their families, researchers and clinicians, and architect Graham Harris and his team at IBI Group. During the design process, young people placed particular emphasis on the need for connection with nature, expressing a desire to be able to see and feel part of nearby green space. The centre, which began construction in June 2021, therefore incorporates landscaped outdoor terraces with extensive planting on each of the building's eight floors.
The Design in Mental Health Network is the only dedicated, non-for-profit organisation focused on designing solution-led environments for mental health patients that will support their well-being and recovery journey. The prestigious award celebrates outstanding mental health environments.
The Pears Maudsley Centre for Children and Young People
Developed by King's College London's IoPPN, South London and Maudsley NHS Foundation Trust, and Maudsley Charity, the Pears Maudsley Centre will bring together clinicians from the UK's largest NHS provider of specialist child and adolescent mental health services to work with the largest group of mental health scientists and clinical academics in Europe.
This unique collaboration between world-leading academics and clinicians will transform child and adolescent mental health care and significantly speed up the time taken to bring research breakthroughs into clinical treatment.
The Pears Maudsley Centre is being built by Integrated Health Projects, an alliance between VINCI Construction UK and Sir Robert McAlpine, and is set to open in 2023.